New York Islanders Top Ten Goals of 2015-16: Number Six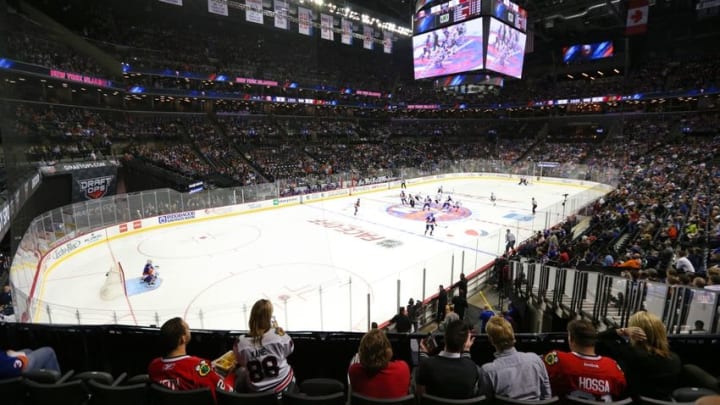 Oct 9, 2015; Brooklyn, NY, USA; General view of opening tip off during the first period between the New York Islanders and the Chicago Blackhawks at Barclays Center. Mandatory Credit: Brad Penner-USA TODAY Sports /
The Eyes on Isles staff got together to reflect on the New York Islanders season and compiled the  top 10 goals of the year. Each of these goals were important for some reason, we'll rank them and tell you why.
The Barclays Center is the current New York Islanders home. And it may not be for too long. It's been just under a year since the Islanders moved in, but already they might be on the way out. With a new home came a new chapter in the Islander's story.
A move is always a difficult time for those involved. It takes a while to get accustomed to your surroundings. And even some time before you actually become comfortable. Case and point in the first regular season game at the Barclays Center.
On October 9th, 2015 the New York Islanders welcomed defending Stanley Cup champions the Chicago Blackhawks to their new home in Brooklyn.
The champions came out flying with a recent cup ring to provide as momentum. The Isles, for their part, didn't shy away and put the pressure on the Blackhawks. But it would be the Hawks who would open the scoring.
After a terrible neutral zone giveaway by Brock Nelson, newly acquired Blackhawks Artem Anisimov struck first on a shorthanded breakaway, beating Thomas Greiss on the backhand 14 minutes into the game.
Striking Back: John Tavares Levels
Leave it to the captain to get things squared up. John Tavares was left unmarked at the near post on an Isles powerplay 14 six minutes into the second period.
Dangling infornt of a sprawling Cory Crawford Tavares is able to get two shots. One that comes off Crawford and the second that he buries for the first regular season goal at the Barclays Center.
The importance of the goal? Not only does it have the distinction of being the first at the Barclays, but it gave fans the first opportunity to celebrate success in a new building.
Remember that the build up to the Isles moving to Brooklyn wasn't all rainbows and lollipops. The Isles were leaving their home for a new arena that wasn't build for hockey.
Seats had blocked views of the attacking zone, the scoreboard was off-center, and the arena was in Brooklyn, not Long Island. Isles fans would have to chart a new route for their pilgrimage.
The new arena made it easier to attract fans from around New York City, but it would make it harder on those that have been most loyal.
Next: Isles Top 10 Goals: No.7
The first goal at the Barclays Center scored by none other than franchise talisman John Tavares allowed us all to forget about that, at least for a fleeting moment.