New York Islanders Move To Queens Is Smart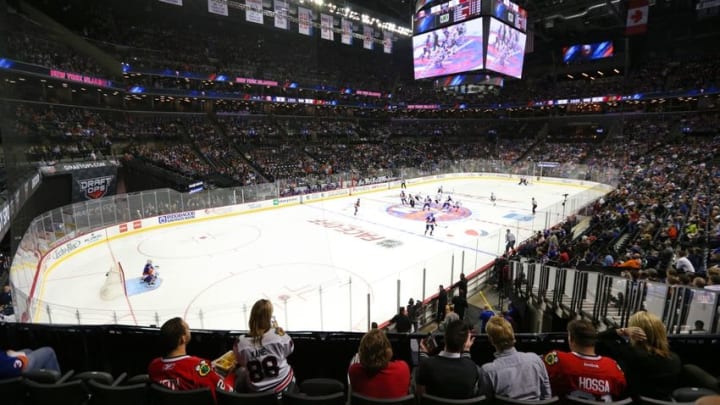 Oct 9, 2015; Brooklyn, NY, USA; General view of opening tip off during the first period between the New York Islanders and the Chicago Blackhawks at Barclays Center. Mandatory Credit: Brad Penner-USA TODAY Sports /
New York Islanders have turned rumors into headlines last month about a possible move to Queens. Eyes on Isles looks at the positives of a new home for the Isles.
It seems that reports are coming out every day that links the New York Islanders with a plan to move the team from Brooklyn to Queens or Nassau county or even back to Long Island. The two possible sites are one next to Citi Field and another on the Belmont park site.
Leaving Brooklyn is certainly possible. A rumored opt out is possible with the current Barclays Center deal after the first four years, so three years from now. Islanders fans have been vocal on the move to Brooklyn for years.
But Long Island seems like a romantic's choice rather than being anything possible, while the two possible sites for a new Isles home are one next to Citi Field and another on the Belmont park site seem like better options.
Brooklyn Ain't Better
This season as the move actually happened and the team played its first season in Brooklyn some voices got louder and the complaints came pouring in through social media. The issues ranged from obstructed seats to late trains and a scoreboard that's not centered to the ice.
As the season went on and attendance got better the criticism seemed to go dwindle, but fans remained skeptical. Some fans could even be overheard saying "On Long island, things were better!"
The Islanders had a good season which helped fans warm up to Barclays. And by the end of the season and that good playoff run there felt like positivity swirled around the team and its arena. Ledecky's town hall with season ticket holders followed, where he said the Isles were all in on staying in Brooklyn for the time being.
Then, several weeks later news leaked that the team has possible two sites for an arena in Queens. One next to Citi field and one next to Belmont racetrack in Elmont. So much for "staying in Brooklyn".
Queens Fits
A move to Queens would be the best outcome for the team and fans. Just think, an arena purpose built for hockey with seats that everyone can enjoy no matter where you sit! No matter how much you pay the fan should enjoy the game with no problem seeing it.
Islanders fans are customed to driving to the game. It's just tradition. The Barclays Center has very limited parking, it says so itself on their website. However, a move to Queens could bring back that tradition. It won't likely give us the option of tailgating like the Coliseum did, but at least you can drive.
A move to Queens would also be an economic boost for the area around the new arena. Along with the new stadium could come new bars, restaurants, and hotels. These will also provide the area with new jobs for a longer season going from baseball to hockey.
Next: What Should Isles Expect for Cizikas in 2016-17?
The current site of auto shops would have to be torn down and some jobs would be lost from that. However, the new arena and what is built around it could replace and add to the community. It's just a great fit.