New York Islanders Anders Lee Area of Improvement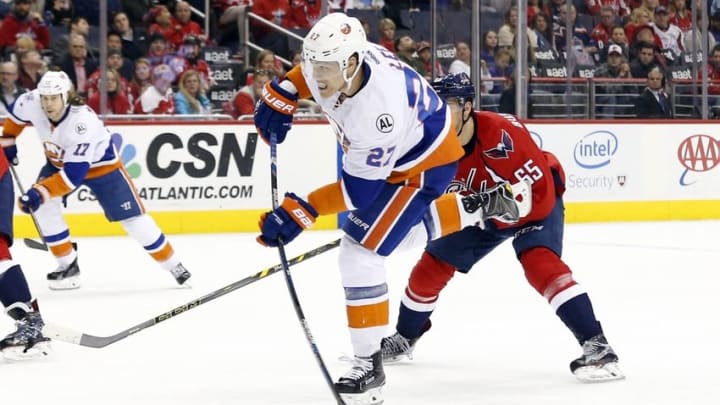 Apr 5, 2016; Washington, DC, USA; New York Islanders center Anders Lee (27) shoots the puck as Washington Capitals left wing Andre Burakovsky (65) chases in the third period at Verizon Center. The Islanders won 4-3 in overtime. Mandatory Credit: Geoff Burke-USA TODAY Sports /
We've addressed the notion that critiquing a player's consistency isn't the best form of criticism. No single player is consistent. But when it comes to certain New York Islanders players, what do they need to improve for 2016-17?
Let's turn our attention to three individual New York Islanders players: Anders Lee, Ryan Strome, and Brock Nelson. How can each of these individuals improve their goal scoring record from last and how do they actually do it.
In this post, we're going to focus on Anders Lee. The former sixth-round draft pick by the New York Islanders slumped last year after a great first full season in 2014-15. How does he get back to that level in 2014-15?
First, let's look at the comparatives from two seasons ago and then this last season. Where did the drop off occur and how sharply did it fluctuate.
All stats from Hockey Reference.
Difference in Anders Lee
The above table just highlights a few statistics that could help find and identify any problem area: production totals, shooting metrics, his average ice-time, Corsi for, and his PDO.
Just looking at those few metrics in the above table there isn't much fluctuation aside from those negative 10 goals. His shooting didn't really go down, but his shooting percentage fell down to within the average for the league.
His Corsi for of 51.6% (adjusted for 5v5) isn't great but when you look at the rest of the team you see that he was ranked 1st with John Tavares amongst the team's forwards in this category. He wasn't the only one with low possession numbers.
The difference is overwhelmingly negative; every category has gone down but assist and average ice time (by a mere 11 seconds). But no single category has gone down so much that we can easily pinpoint an area for improvement.
So perhaps Anders Lee's struggle last season was more environmental. Maybe it had something to do with who he played with and who he played against.
Quality of Teammate/Opposition
Last season Anders Lee spent the majority of the season playing alongside Josh Bailey, Brock Nelson, and Frans Nielsen. All fine players in their own right, but both Bailey and Nelson struggled themselves last season.
Compare that to the three players he played most often with in 2014-15: Ryan Strome, Brock Nelson, and John Tavares. Just being able to play with John Tavares is a massive upgrade, one that likely lead to some of his success, but not all of it.
This last season Lee found himself playing against some marginally better defensive opposition. His three most common opponents are Kris Letang, Noah Hanifn, and John Moore. Compare that to the 2014-15 season where Lee went up against Erik Gudbranson, Mark Streit, and Brooks Orphic.
It's not that those last three names are bad at defending, but they aren't level to all-star Kris Letting and the rising start that is Noah Hanifin. Although John Moore is very much at their level. His defensive assignments from two seasons ago were seemingly marginally easier.
Last Season Was the Norm
Lee won't find playing time with Tavares again this year, but is likely to sit on that second line alongside Ryan Strome for most of the season again this year. His defensive coverage in this coming season should be similar to that of the previous season.
Maybe we're looking at this wrong. Maybe instead of saying that Lee's 2015-16 was an aberration in form. Maybe it was 2014-15 that was the aberration? Maybe Lee is simply a 35 point player?
Next: Expectations for Cal Clutterbuck Next Season
What does Lee need to improve in 2016-17? Based on the few variables we looked at Lee just there isn't much he actually needs to do more. Lee didn't have a bad year in 2015-16, maybe we're just expecting too much from him.