New York Islanders Goaltending Cause for Pessimism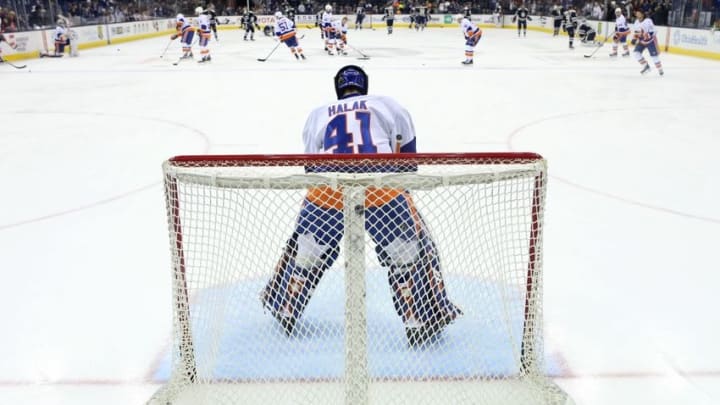 Dec 12, 2015; Columbus, OH, USA; New York Islanders goalie Jaroslav Halak (41) looks on during warmups prior to the game against the Columbus Blue Jackets at Nationwide Arena. Mandatory Credit: Aaron Doster-USA TODAY Sports /
The New York Islanders made a number of roster moves over the offseason, changing the emotional fabric of the team. The moves hopefully push the New York Islanders into contender status. But what's the one thing hanging over the Isles season that could derail the whole thing?
Pessimism is almost like a right of passage for fans. We support the team in the good times and the bad and we deserve and reserve the right to pick our team apart when we feel like it. As New York Islanders fans the bad times have been long, but the good times seem to be on the horizon.
What if I were to ask you what's the biggest area of concern for the Islanders going into to 2016-17? What would you answer? Some of you might focus on the coaching. Some of you might talk about the loss of character with the free agent rotation that took place over the summer.
While other might just focus on goaltending. And that, in my humble opinion, is the linch-pin that the Islanders season hinges upon.
Goaltending Questions
Both Jaroslav Halak and Thomas Greiss seem to be number one starters for the Islanders next season. Halak, who was brought in as the starter just over two years ago, seems to be injury free and ready to take his crease back. While Griess, who had a strong 2015-16 season, leading the Isles to the playoffs and to a second round appearance has his own claim to the crease.
But there's a reason that Jaroslav Halak has been traded three times since his initial trade from Montréal. And why Thomas Griess has been a career backup. They just aren't the best in their class.
Jaro has perfectly serviceable numbers as a starter, but he's on that cusp of average where a coach or GM could easily go with a hotter hand rather than the 31-year-old Slovakian.
Then keep in-mind the recent injury trouble. First a lower-body injury in March and then what seemed to be a sports hernia a few months later. Halak is banged up.
Griess is untested. Before this year he hadn't player more than 25 games, so who knows if his 2.36 GAA and 9.25SV% from last year will translate this year?
Regardless of who starts in the crease in the opener on October 13th, we're looking at a tandem made up of an average starter and a goaltender with an incredibly small sample size.
Next: John Tavares Isn't Boring
Goaltending can make or break a season. Just ask the Columbus Blue Jackets what happened last year after Sergei Bobrovsky's .838 SV% in the season's opening five games?