New York Islanders Top 25 Under 25: Carter Verhaeghe #19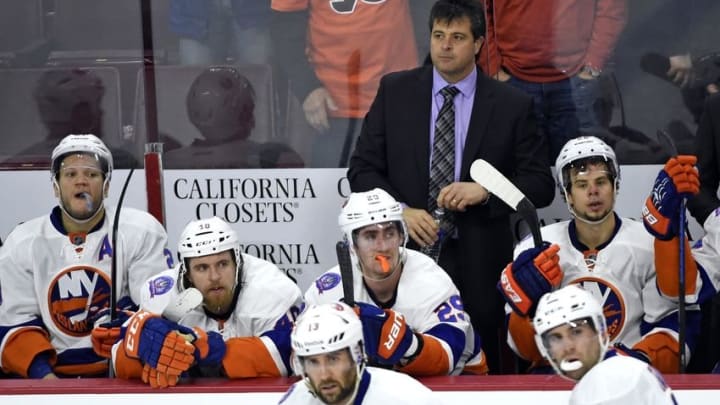 Apr 7, 2015; Philadelphia, PA, USA; New York Islanders head coach Jack Capuano stands behind his team on the bench after the Philadelphia Flyers scored the game-winning goal with three seconds left during the third period at Wells Fargo Center. The Flyers defeated the Islanders, 5-4. Mandatory Credit: Eric Hartline-USA TODAY Sports /
Next up on the top 25 under 25 in the New York Islanders system is Carter Verhaeghe. The young center has talent but does he have the drive to take him to the next level.
At number 19 in our top 25 under 25 is Carter Verhaeghe. The 21-year-old center was drafted in the third round by the Toronto Maple Leafs back in 2013. He came to the New York Islanders in a five-player swap for Michael Grabner.
His OHL career was fantastic. In four season with Niagara between 2011 and 2015, Verhaeghe put up 224 points in 262 games. In his final two years, he was producing at a pace of 1.2 points per game.
Naturally, with that type of production, he got the call up to the AHL in Bridgeport. He just wasn't able to capitalize on that call-up in 2015-16. His 15 points in 30 games underwhelmed and he soon found himself in the ECHL.
Where he excelled. In 20 games he put up 25 points for the Missouri Mavericks.
Blocked Trajectory
Verhaeghe just seems to be in that odd place where he's talented enough, but just can't get passed the AHL.
He's excelled in the OHL and in the ECHL. But when it comes times to the AHL, he just seems to struggle.
It's something that comes up when looking at scouting reports for Verhaeghe, that lack of a consistent effort. He vanishes in and out of games.
The junior and lower league may have come easy for Verhaeghe, but the AHL is a different animal that he needs to figure out to make that next step.
The Islanders organization is loaded with centers. Just look at their depth chart at center: John Tavares, Rayn Strome, Casey Cizikas, Brock Nelson, Alan Quine…
Four are guaranteed NHL starters, effectively blocking any chance of Verhaeghe or any other center making that immediate jump to the NHL roster. To continue playing at center means he's going to have to spend some time in Bridgeport.
At 21, he's still young and has time to figure it out. He's also got another two years before the Islanders are forced to decide if they want to continue having him on their roster .
Next: Top 25 Under 25: #20 Eamon McAdam
Verhaeghe, like most prospects, has talent. He couldn't get this far without any sort of talent. But to make that next level he's going to have to care enough to try every night. The AHL might not be as glamorous as the NHL, but it's so much closer than the ECHL…so what will it be?