Islanders Can't Stop The Wild's Streak (Highlights)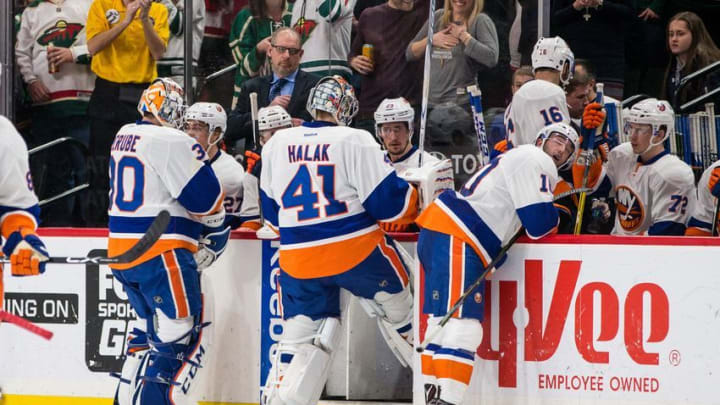 Dec 29, 2016; Saint Paul, MN, USA; New York Islanders goalie Jaroslav Halak (41) is pulled from the game in favor of goalie Jean-Francois Berube (30) during the second period against the Minnesota Wild at Xcel Energy Center. Mandatory Credit: Brace Hemmelgarn-USA TODAY Sports /
The New York Islanders were unable to complete the third period comeback and beat the Minnesota Wild, who went on to win their 12th in a row.
Just when you think the Islanders are going to comeback and win the game the third period voodoo gets 'em once again. Here's the highlights from tonight's action:
It started off a little interesting as MSG lost its feed from Minnesota. We were listening to Brendan and Butch but saw either a picture displayed by MSG saying please hold or the Wild's Fox Sports feed that was seconds behind the action. It was rough, and it lasted for a solid chunk of the first period.
Marco Scandella got the scoring underway as he beat Jaroslav Halak. Though the lead was short lived, Jason Chimera would tie the game less than two minutes later.
It was Nick Leddy who gave the Islanders their first lead of the night, 6:15 into the second (on the power play no less).
What happened next is where things got really weird. The Wild would get three goals in a 80 second span. Chris Stewart, Jared Spurgeon, and Jordan Schroeder all netted a goal to give the Wild a 4-2 lead.
Jaroslav Halak was sent to the bench and in came J.F. Berube. Some of the goals were on Halak but Travis Hamonic looked lost tonight, his struggles continue.
The score remained 4-2 heading into the third period. But just 55 seconds in Brock Nelson, a Minnesota kid, scored.
More From Eyes On Isles: Expectations For Brock Nelson
But wait there's more! 42 seconds later Brock Nelson tied up the game
So after the Islanders grabbed a lead then they had a breakdown in the second period they stormed right back in the third period. That is until Erik Haula scored on a deflection from Nino Niederreiter.
More From Eyes On Isles: Nino Niederreiter The One That Got Away
The Wild would add an empty netter for good measure winning this one by a score of 6-4. The scoring was there but the defense and goal tending were not.
Oddly enough the Islanders have scored 17 goals in their last four games but John Tavares only has one of them. The secondary scoring has been great, they just need more consistency from their goalie and defenseman.
Next: Looking To End A Hot Streak
If you score four goals you should win the game. Period. The Islanders can't afford to lose games like this, they have way too much ground to make up.