Islanders Force OT Late vs Penguins (Highlights)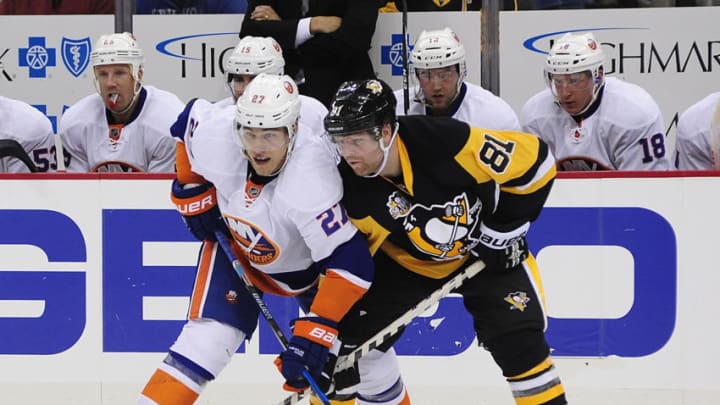 PITTSBURGH, PA - OCTOBER 27: Phil Kessel #81 of the Pittsburgh Penguins looks on against the New York Islanders at PPG PAINTS Arena on October 27, 2016 in Pittsburgh, Pennsylvania. (Photo by Matt Kincaid/Getty Images) /
The New York Islanders couldn't play a full 60 minutes in Pittsburgh but still were able to force overtime.
After a "Dougie Blowout" in Tampa Bay, the New York Islanders were looking to bounce back in Pittsburgh. Things didn't start out so hot for the Islanders in that regard though.
The Penguins dominated play in the first playing most of the period in their offensive zone. The Islanders only got six shots on net while Pittsburgh was able to put 15 shots on Jaroslav Halak. Jake Guentzel was able to get the Pens on the board with a power-play goal.
His goal would be the lone goal of the period, after one it was 1-0.
The second period was much different. This time it was the Islanders who came out ready to go. Jordan Eberle was able to tie up the game with his 12th of the year.
Jordan Eberle now has 12 goals in his last 18 games. He's on pace for 35 goals over the regular season. That faint crying sound you hair is Oilers fans in Edmonton as they're forced to watch Ryan Strome on a nightly basis.
The second period saw the Islanders outshoot the Penguins 13-7.
Period three wasn't too kind to the New York Islanders, at first. Again the team came out flat not registering a shot for 14 minutes of the third period! Over that span Phil Kessel (on the power-play) and Riley Sheahan were able to add two goals giving the Pens a 3-1 lead.
The momentum was totally going Pittsburgh's way. That is until rookie Mathew Barzal netted his eighth of the season for his 27th point on the season.
Then with 1:10 to go and Halak on the bench for an extra skater Brock Nelson tied up this game.
Brock Nelson put himself in the perfect position to tap in that easy rebound. The Islanders stole a point in a game they had no business competing in. The Penguins looked like the better team for more than two-thirds of the game tonight.
In overtime, there were a couple of chances both ways, but ultimately Matt Hunwick was able to score and give the Pens the additional point.
Next: Eyes On Isles Podcast Ep 16: Trades, Tavares Photoshop and More
Overall the Islanders did not play well tonight but were still able to get a point on the road against the defending champs. Their fight is the sign of a good team, but they still have some aspects to work on,