New York Islanders Daily: Yannick Rathgeb Surprise Standout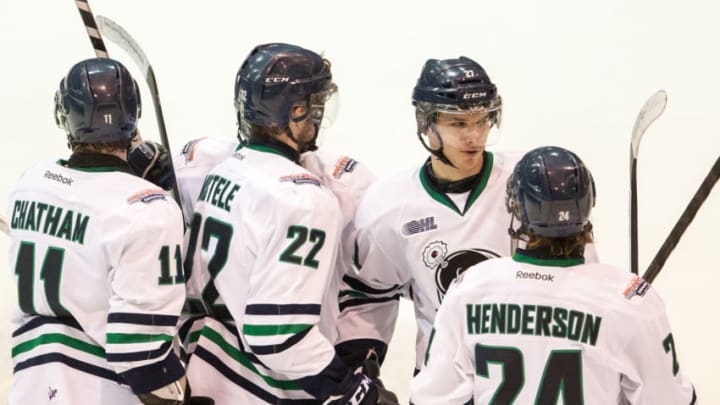 WINDSOR, ON - FEBRUARY 21: Connor Chatham #11, Matt Mistele #22, Mathieu Henderson #24 and Yannick Rathgeb #27 of the Plymouth Whalers celebrate a goal on the Sarnia Sting on February 21, 2014 at the RBC Centre in Sarnia, Ontario, Canada. (Photo by Dennis Pajot/Getty Images) /
Yannick Rathgeb was surprisingly pretty good at New York Islanders minicamp in June, he might be someone worth keeping an eye on this year.
While reading Arthur Staple's prospect update one of the things that stood out was how much time he spent on New York Islanders defenseman Yannick Rathgeb. Rathgeb was a Garth Snow signing in January of this year while playing in the NLA.
Rathgeb put up pretty solid numbers as a 22-year-old. In 38 games Yannick had 28 points (8 goals, 20 assists).
The Switzerland native has a right-handed shot and is expected to start the year in Bridgeport as he gears up for his first AHL season. Rathgeb plays with a bit of an instigator in him, in 2016-2017 he had 115 penalty minutes in 45 games.
""I kind of got off my game a little bit," he said. "I just couldn't focus my energy in the right way, I was yapping too much at the refs and made some stupid penalties. I had two 25-minute (games), suspensions from those. I had the most minutes in the league. I was just being stupid, really. Luckily I got my s*** together the next year.""
The Islanders only have six defensemen on their roster at the moment with Nick Leddy, Johnny Boychuk, Thomas Hickey, Ryan Pulock, Scott Mayfield, and Adam Pelech. It appears that Sebastian Aho, Devon Toews and potentially Rathgeb will be fighting for the seventh d-man role.
Bet on Yannick Rathgeb starting in the AHL. Is ceiling seems to project as a seventh d-man, which is a fine role player, like a poor man's Scott Mayfield. Since Mayfield is already signed long-term I don't see him taking over that role just yet.
Isles Tweet of the Day
Our Stuff
Podcast: Josh Ho-Sang's spot in 2018-2019
Can Josh Ho-Sang make the New York Islanders roster? Cause it sounds like new head coach Barry Trotz is keen for him to be part of the team. Ho-Sang will have to earn it and force someone else out.
Editorials: Right defense depth chart
For 2018-19 the New York Islanders have three right-handed shooting defensemen. There's a changing of the guard in terms of who ranks at the top.