New York Islanders 2018-19 Season Review Player Grade: Nick Leddy
Nick Leddy hasn't been the same player New York Islanders fans are used to seeing. His 2018-19 season didn't have that eye-catching +/-, but it still wasn't great.
With a new defensive minded coach, things were going to be different for New York Islanders defenseman Nick Leddy in 2018-19. Gone was the previous regime that put all of their eggs in the offense side of the game, leaving none for the defensive side of the game.
A strategy that worked out horrendously for the New York Islanders and for Nick Leddy.
As the team's number one defender Nick Leddy was out on the ice a lot. The Islanders offense-heavy strategy created a ton of goals, but they also allowed a ton in their own net. Leddy finished the season with a -42 plus-minus.
I hate +/- as much as the next, but it still tells a story. Defensively the Islanders were terrible. With Barry Trotz that would change.

Stats
| Nick Leddy | G | A | PTS | +/- | CF% | xGF% |
| --- | --- | --- | --- | --- | --- | --- |
| 2018-19 | 4 | 22 | 26 | 0 | 44.46 | 44.98 |
*Goals, assists, points, +/- from Leddy's NHL.com page
**CF% and xGF% are 5on5 rates and from NaturalStatTrick.com
Season Overview – Defense
The Islanders were the best defensive team in the league, so gone was that-42 +/- for Nick Leddy. He finished with an even 0 in the +/- column. At least he wouldn't have that hanging over his head.
His possession rate went down, but that's due to Trotz's system that puts the priority on quality versus quantity.
But Leddy's expected goals for also dropped. His was the second lowest on the team, only Luca Sbisa had a lower xGF% than Leddy. That low xGF% was thanks to a 60.39 xGA rate. The lowest on the team by 8.51 points.
Defensively Nick Leddy wasn't great for the Islanders this season. That was on full display when Johnny Boychuk was out of the lineup.
That's when Nick Leddy was paired up with Thomas Hickey in the Islanders second-round series against the Hurricanes. The two were an absolute defensive liability for the New York Islanders.
Season Overview – Offense
His production gave way this season. To be fair, there were a number of players that had lower numbers than we're typically accustomed to. But Leddy's dropped by 16 points. That's a massive drop. His 26 points this season is his lowest return since the 2012-13 lockout season.
We saw flashes of that Nick Leddy of old this season. Taking the puck from the defensive zone, through the neutral zone, and in the offensive zone for a scoring chance or a goal. Watch this goal from November 23rd. That's the Nick Leddy we're used to.

We rarely saw that Nick Leddy this season. It's been two years now that Nick Leddy hasn't looked like the player the Islanders traded for back in 2014.
As the season progressed Leddy was dropped down to the second pair. Ryan Pulock was now the number one defenseman for the Islanders. Leddy was also demoted on the power play. Devon Toews is now the lone defender on the team's first power-play unit.
Grade: C-
Ryan Pulock, Adam Pelech, Scott Mayfield, and Devon Toews have stepped up for the Islanders. And with players like Sebastian Aho in the AHL, and Noah Dobson and Bode Wilde in the CHL, Nick Leddy is a tradeable asset for the New York Islanders.
Nick Leddy gets a C- for 2018-19.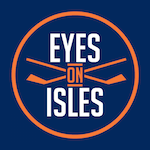 Want your voice heard? Join the Eyes On Isles team!
Write for us!
I'm not sure what's going on with Nick Leddy exactly. Defensively he hasn't been much good and his offense hasn't been any better. If the New York Islanders keep Nick Leddy around I sure hope Barry Trotz finds a way to get the best out of Nick Leddy, cause I sure miss the Leddy we got in 2014.