Islanders vs Maple Leafs NHL20 simulation: Offense just keeps on rolling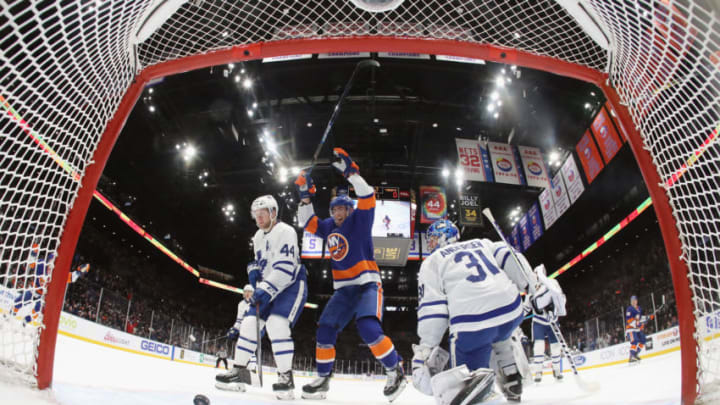 UNIONDALE, NEW YORK - NOVEMBER 13: Mathew Barzal #13 and Brock Nelson #29 of the New York Islanders celebrate a power-play goal by Anthony Beauvillier #18 against Frederik Andersen #31 of the Toronto Maple Leafs at NYCB Live's Nassau Coliseum on November 13, 2019 in Uniondale, New York. (Photo by Bruce Bennett/Getty Images) /
In our latest simulation, the New York Islanders faced off against the Toronto Maples Leafs. And just like in their previous game, the offense had themselves a night.
In order to cope with no hockey, we've resulted to NHL20 simulations for the remaining New York Islanders games on the 2019-20 schedule. So far the Islanders are 1-1-0 with simulated games against the Pittsburg Penguins and the Calgary Flames.
The boys last simulated 'outing' resulted in a dominant 7-0 win over the Calgary Flames with Josh Bailey putting up his second career five-point night.
Now the Isles head to Toronto and hope the offense follows them across the border where John Tavares is ready to welcome his former team.
(Thank you, Ryan Grosso, for running the simulations for me.)
More Offense
We've been craving a sustainable offense since the start of the season. We get a flurry of goals here and there, but nothing sustained for more than a game. With a 7-0 thrashing of the Calgary Flames, a let down was expected.
But the Islanders, powered by an incredible second period, the Isles ran away with a 6-2 win.
While Josh Bailey was the hero in the previous tilt, this time captain Anders Lee stole the show with a hat-trick. His first goal came 11:20 into the contest and his next two came in the second half of the second period.
That second period saw the Islanders score four unanswered goals on Jake Campbell. Matt Martin opened the scoring with Anders Lee bookending an Anthony Beauvillier tally at 14:31.
Beau would add a short-handed goal on Frederick Andersen in the third to make it 6-2.
Mitch Marner and William Nylander were the two Maple Leafs to get on past Semyon Varlamov.
That's a +11 goal differential in two games. Clearly the simulated version of Lou Lamoriello is smiling ear-to-ear right about now.
Winners and Losers
Winners
Anders Lee: 3 Goals, 6 Shots
Anthony Beauvillier: 2 Goals, 6 Shots
Nick Leddy: 2 Assists, +4
Nick Leddy had his first multi-point game in a long while. In the real world, Leddy hasn't had a multi-point game since December 21, 2019, when he scored a goal and added two helpers. Since December 21 Leddy only has seven points in 34 games.
So I'm going to live in the simulated world for a while where Nick Leddy is putting up points and ending on the right side of the single-game +/-.
Losers
Auston Mathews: 0 Goals, 5 Shots
Devon Toews: -2, 3 Shots
Jack Campbell: 0.808SV% 5 GA, 21 Saves
The Islanders were able to keep Auston Matthews (who's on pace for 55 goals) to zero points. And Devon Toews was out there for both Toronto goals but somehow wasn't out there for a single Islanders goal.
But the real loser in this game is Jack Campbell who stopped 21 of 26 shots for a horrendous 0.808SV%. Campbell didn't lead the Maple Leafs out for the second period with Frederick Andersen stepping in and stopping 12 of 13 shots.