Islanders 2019-20 player grade: Noah Dobson's rookie season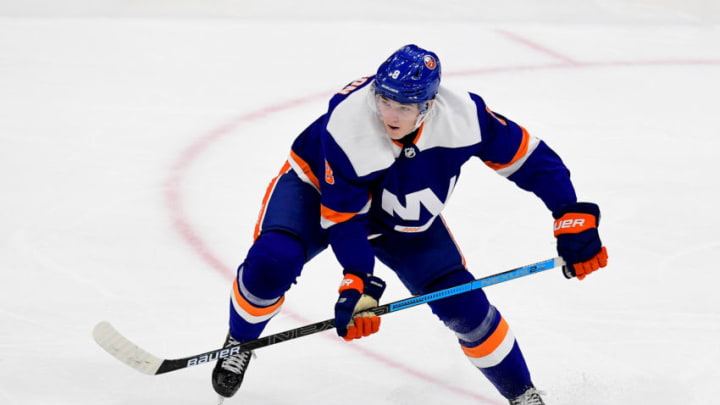 Noah Dobson #8 of the New York Islanders (Photo by Emilee Chinn/Getty Images) /
He had a lot to learn, but rookie Noah Dobson performed well for the New York Islanders.
The 2019-20 season was Noah Dobson's first year in the NHL. After an incredibly successful junior career, the 12th overall pick from the 2018 draft made the leap to the pros with the New York Islanders this season.
With the best defensive core in the league from 2018-19, it was always going to be difficult for Noah Dobson to break into the squad and get some game time. But with an injury to Adam Pelech, Dobson was able to step into the lineup on a more consistent basis.
In his 34 games this season, Dobson showed us that while he's still just a rookie he has a ton of promise.
Up Hill Battle
It was always going to be difficult for Dobson to break into the squad this season. Not only were the Isles the best defensive team last season, but they were already loaded on the right side of the blue line.
Ryan Pulock is the Islanders number one defenseman, Scott Mayfield has partnered well with Devon Toews on the second pair, and Johnny Boychuk is the steady veteran presence every successful team needs on the back end.
Before Adam Pelech went down with a season-ending injury, Dobson had only played eleven games. Putting him on pace to hit 24 over a full NHL season.
This was of course by design. Barry Trotz had repeatedly stated that his plan with Dobson (and any rookie) is to build their confidence before tossing them to the wolves in the NHL.
While I didn't write an expectation piece for Dobson, I think the goal for him in 2019-20, based on Trotz's plan was to become more confident as the season progressed and become a solid player, even if those minutes were relatively sheltered.
If Dobson could show he belongs in the NHL with solid defense and some ok offensive numbers he would have succeeded.
More Time
He came right out of the gates flying. In his first NHL game, Dobson recorded his first NHL point with a pretty setup for Matt Martin against the Edmonton Oilers.
Dobson played 18:50 and finished a +1 on a night where the Isles got outscored 5-2 by Connor McDavid and friends.
From there, Dobson was in and out of the lineup playing just about every other week. His ice time fluctuated from 13+ minutes one night to nine minutes the next.
Things were going well for Dobson with the setup. So when Adam Pelech picked up that season-ending Achilles injury, it was comforting that Noah Dobson could be inserted into the lineup to fill the gap.
But just a few nights after Pelech had to withdraw with an injury, the Isles traveled to Toronto and Maple Leafs forward Kasperi Kapanen absolutely embarrassed Dobson with this crushing nutmeg.
Noah Dobson is a rookie after all and rookies make mistakes. It's going to happen. What's important is how he responds and recovers from those mistakes.
He certainly didn't have another highlight-reel goal scored on him like that Kapanen one. So good on Dobson for that. He did have a bad night in Nashville with a -3. But then again the entire team was terrible in that 5-0 loss to the Preds.
Dobson recovered well and showed he could get right back up and perform.
Looking at his advanced numbers shows a kid who's comfortable playing a two-way game.
His expected goals against lead the way for all defensemen, his scoring chances against were the lowest on the Isles blue line, and his high-danger chances against were second-lowest for a defenseman after Andy Greene. Defensively Dobson was great.
(All stats are from NaturalStatTrick per 60 at 5on5 and score and venue adjusted.)
His offense was much of the same. Dobson leads all defensemen in Fenwick-For, expected goals-for, high-danger chances for, and was second to Devon Toews for scoring chances for. Again, all stats are per 60 at 5on5 and score and venue adjusted.
Grade: A-
He did what he needed to do this year and that was to listen to the coach, follow what he says, and just let your talent speak for itself.
There a few blemishes along the way. But rookies make mistakes. It shouldn't stop them from becoming the player they'll eventually become. We all remember Mathew Barzal playing a puck while still in the box in 2016-17. He still turned into a Calder Trophy winner.
I expect Dobson to be even better and have an even bigger role for the Isles in 2019-20.