Islanders Pageau Has Been a Trade Deadline Revelation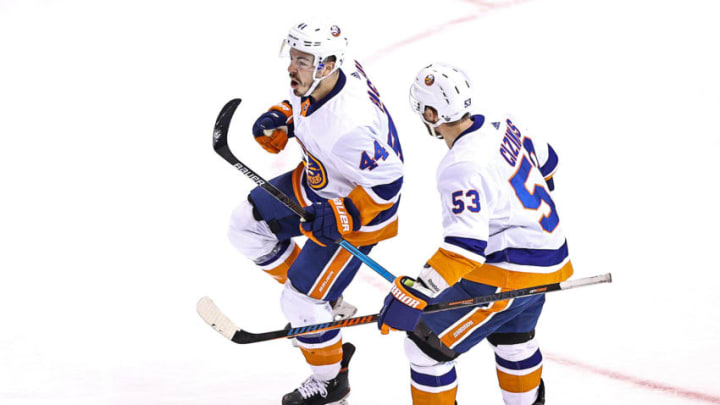 TORONTO, ONTARIO - AUGUST 26: Jean-Gabriel Pageau #44 of the New York Islanders is congratulated by his teammate, Casey Cizikas #53, after scoring the game-tying goal against the Philadelphia Flyers during the third period in Game Two of the Eastern Conference Second Round during the 2020 NHL Stanley Cup Playoffs at Scotiabank Arena on August 26, 2020 in Toronto, Ontario. (Photo by Elsa/Getty Images) /
The New York Islanders addition of Jean-Gabriel Pageau has transformed the lineup and silenced skeptics.
For years, New York Islanders fans have begged for management to make a major trade deadline move rather than the usual depth trade. The people who have seen nothing but missed playoffs or quick exits wanted to make a splash regardless of a high price tag, myself included.
But after years of patience, the right deal presented itself, and Lou Lamoriello hit a home run.  Sending a 2020 first-round pick, 2020 second-round pick, and if the Islanders were to win the Stanley Cup this year an additional third-round pick in 2022 for Jean-Gabriel Pageau.
The return was initially deemed an overpayment for a player like Pageau, and considering he was a middle-six player on a terrible team, I can understand the skepticism from outsiders. But to Islanders fans, he filled a key hole at a time when the team was ready to take their game to the next level.
While a first, second, and third-round pick sounds like a high price to pay for your third line center I have chosen to view the trade like this since it happened. Would you trade two second-round picks for Pageau? The only conditions are if he re-signs one of the picks becomes a first and if you win the Stanley Cup an extra third-rounder will be added.
I would have jumped at that immediately. You wouldn't even notice the extra pick thrown into the trade because we will be in the midst of a month-long celebration.
Pageau's reputation as a playoff performer has certainly followed him. Scoring seven goals in just 13 games is more than we could have asked for. Playing a major role on the Isles best team since 1993 is what we dreamed of.
Lou Lamoriello also brought in a defensive-minded, consistent veteran on the back end in Andy Greene. Both moves have paid huge dividends and have Islanders fans thinking about how the team was launched to another level forty years ago by adding a key center and steady defenseman.