Islanders tender qualifying offer to eight of ten RFAs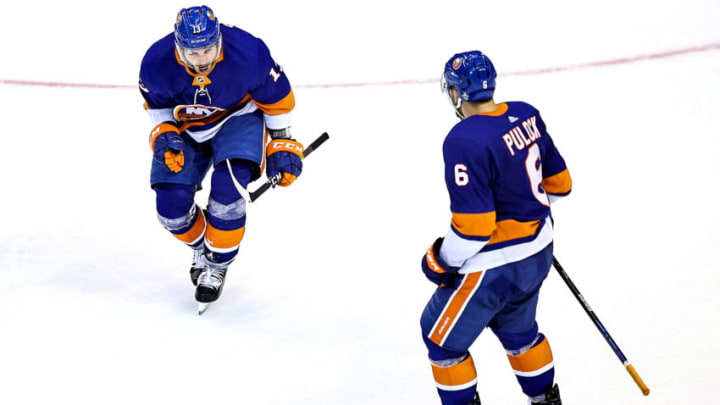 Mathew Barzal #13 of the New York Islanders (Photo by Elsa/Getty Images) /
The New York Islanders announced today that they've tendered qualifying offers to most of their RFAs. Here's who got one and how much.
Most of the New York Islanders crop of RFA's were given a qualifying offer by the team. The lone RFA to not get an offer was goalie Linus Soderstrom. Sebastian Aho signed a two-year deal with the club.
We still have to wait and see if any of them sign a new deal, sign the offer sheet, or neither. But what this means from an Islanders standpoint is that all eight RFAs remain under team control for at least another year. Even if they don't sign the offer sheet the team sent them.
The RFAs
The following eight RFAs received qualifying offers from the Islanders. I've attached the minimum qualifying offer that the Isles had to give to each player.
Ryan Pulock (D): $2.65 million*
Josh Ho-Sang (RW): $917,831
Mathew Barzal (C): $874,125*
Grant Hutton (D): $874,125
Devon Toews (D): $787,500
Parker Wotherspoon (D): $761,250
Mitch Vande Sompel (D): $735,000
Kyle Burroughs (D): $735,000
*One-way deals based on the number of NHL games played.
(All qualifying offer figures pulled from CapFriendly.)
The news of the qualifying offers hit two days before the deadline for qualifying offers closes. None of the dollar figures matter unless the player signs the qualifying offer. So don't start tabulating how much cap space the Islanders have left after these offers.
Most of these players will likely work out a deal with the Islanders rather than sign this single year-qualifying offer. Although Josh Ho-Sang did sign his last season.
These offers give the Islanders the ability to retain the player's rights for yet another year as well as the right to the first refusal in the event of an offer sheet. Only Mitch Vande Sompel isn't allowed to sign an offer sheet as a 10.2(c) RFA.
Wait for the Deal
The Islanders only have until October 9 at noon to get deals signed before players can sign an offer sheet with another team. I know that offer sheets rarely happen, but with the flat cap and only $8.905 million in cap space, the Islanders are a good offer sheet target.
It would be a good idea to get Barzal, Pulock, and Toews signed to extensions before the offer sheet window opens and other teams get to essentially dictate how the Islanders navigate the salary cap.
With qualifying offers in, now we wait to see what deals some of these players sign.