Islanders: Bottom Six Roster Building Debate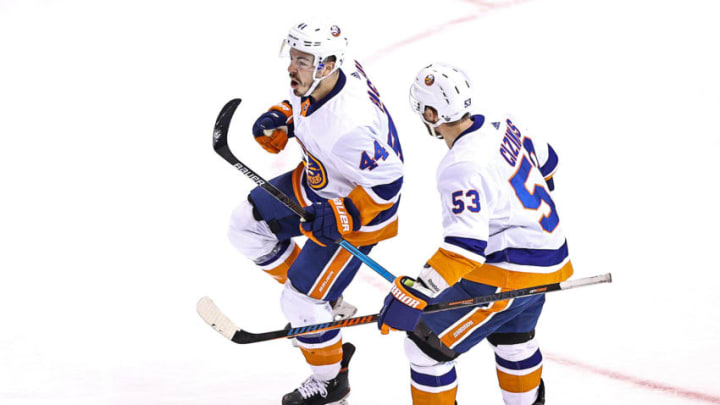 TORONTO, ONTARIO - AUGUST 26: Jean-Gabriel Pageau #44 of the New York Islanders is congratulated by his teammate, Casey Cizikas #53, after scoring the game-tying goal against the Philadelphia Flyers during the third period in Game Two of the Eastern Conference Second Round during the 2020 NHL Stanley Cup Playoffs at Scotiabank Arena on August 26, 2020 in Toronto, Ontario. (Photo by Elsa/Getty Images) /
The New York Islanders have $16.55 million tied to their bottom-six, is that too much or is this sustainable for a roster?
In a sport with a salary cap, there's only so much money you can spend on certain areas of your team. For example, in the NHL should teams pay their bottom-six forwards? The Islanders have chosen this route, but is it the best route?
As of right now, the Islanders have $16.55 million in cap hits for their bottom six with JG Pageau, Cal Clutterbuck, Casey Cizikas, Leo Komarov, Ross Johnston, and Michael Dal Colle. We're excluding Andrew Ladd because he is likely to be on LTIR or in the AHL.
That number could grow to over $17 million with the likelihood of Matt Martin returning on a cheap deal to play on the fourth line. When projecting the lines, Dal Colle – Pageau – Komarov and Martin – Cizikas – Clutterbuck seems like a pretty solid chance of happening.
Assuming Martin is back at roughly $750,000 that would be $16.3 million for line three and line four. That's 20 percent of the cap tied into lines three and four. Then you have teams with the opposite extreme like the Maple Leafs.
Their projected bottom six of Robertson – Thornton – Kerfoot and Vesery – Spezza – Simmonds is projected to cost them $8.12 million against the cap. That's just 10 percent of the cap going to the bottom six.
The Islanders and the Leafs obviously have very different ideas when it comes to the importance of the role players on the roster. To me, both seem a tad extreme.
Pageau and Cizikas making $5 million and $3.35 million is more than fair and both are important parts to the roster. Clutterbuck and Komarov both making over $3 million above the cap is absolutely not necessary.
In a perfect world, let's say the Islanders have both Pageau and Cizikas for $8.35 million, another forward for $2.5 million, an ELC (we'll use $900,000 as the benchmark) and two minimum deals to round out the roster.
That would come to $13.15 million which is $16 percent of the $81.5 million cap. To me, that's more sustainable. Some would argue that the Leafs roster construction is better with the top-heavy forward group.
Now, I'm not saying the Islanders decision to pay nearly $17 million to the bottom six is necessarily smart but I do think you need more balance to your lines than what a team like the Leafs have.
It's about everything in moderation right? The Islanders are overindulging while the Maple Leafs are starving themselves, there has to be some middle ground, no? Hopefully, the Islanders can start to shed some money out of that bottom six over the next few years.