Islanders: Simon Holmstrom's loan with Vita Hasten was successful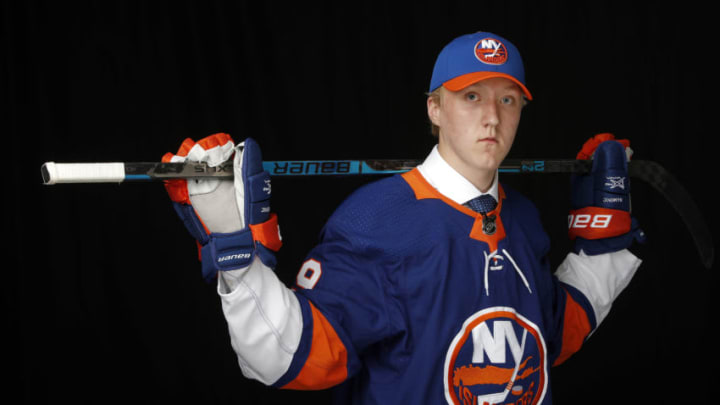 Simon Holmstrom poses for a portrait after being selected twenty-third overall by the New York Islanders during the first round of the 2019 NHL Draft at Rogers Arena on June 21, 2019 in Vancouver, Canada. (Photo by Kevin Light/Getty Images) /
New York Islanders Simon Holmstrom produced two points in eleven games while on loan. That doesn't sound great but his loan spell was still a success.
On Monday, New York Islanders Simon Holmstrom's loan to Swedish side Vita Hasten came to an end. After eleven games with the Allsvenskan side, Holmstrom will likely return to North America in order to begin preparations for the 2020-21 season.
His loan spell was short but it was a successful stint back on home soil for the Islanders first-round pick in 2019. Sure, two points in eleven games while playing in Sweden's second division doesn't sound like a great return, but the fact that Holmstrom got to play competitive hockey was all that mattered.
And that alone makes his loan a success.
Got Playing Time
Think about it. How many Islanders prospects didn't get a chance to play competitive hockey during the break?  Most haven't seen the ice for a game since March. Only four players in the system actually got to play during the break. Along with Holmstrom, the other three are Oliver Wahlstrom (AIK | Sweden), Otto Koivula (HIFK | Finland), Jakub Skarek (Peliitat | Mestis). That's it.
(Wahlstrom, Koivula, and Skarek haven't been recalled yet.)
Now think of the players that could have used some game time during this incredibly long break between the 2019-20 and 2020-21 season. For me, defenseman Bode Wilde is the first name I think of.
Wilde sustained an ankle injury just before camp. That injury put him on the sidelines for two months. He missed training camp and a full month of the AHL season because of the injury. Between the AHL and OHL in 2019-20 Wilde played a total of 31 games over the course of a full year. That's a lot of missed time. Getting some competitive games under his belt before the start of 2020-21 would have been incredible for him.
The goal for Simon Holmstrom was to simply get playing time. Of course, producing more than two points in eleven games would have been great but he (and the Islanders) got what they wanted from the loan.
Want your voice heard? Join the Eyes On Isles team!
Holmstrom has made progress since being drafted by the Islanders. Sound Tigers coach Brent Thompson said that the young man took "key strides" in his first pro season (subscription required) in North America this year.
We can't forget that Holmstrom just turned 19 in May (he was the youngest pro in North America last season), but he's had to deal with some significant adjustments since being drafted. Getting more playing time is beneficial to his development and for the Islanders. It's a win-win.