Islanders one key to beat Washington Capitals: Don't take penalties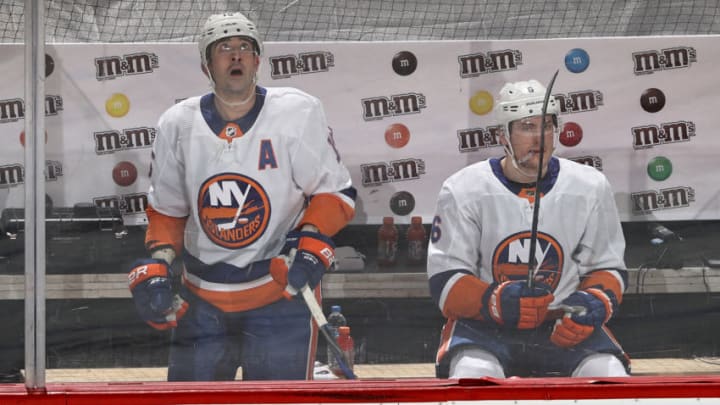 NEWARK, NEW JERSEY - MARCH 02: Cal Clutterbuck #15 and Ryan Pulock #6 of the New York Islanders are in the penalty box at the same time in the second period against the New Jersey Devils at Prudential Center on March 02, 2021 in Newark, New Jersey.Due to COVID-19 restrictions a limited number of fans are allowed to attend. (Photo by Elsa/Getty Images) /
Every week on our Patreon account I put out a video recapping the last week's games and look forward to this week's games. As part of the look forward, I put together a tale of the tape for each of the New York Islanders opponents on the week, and while compiling the tale of the tape for the Washington Capitals one number stood out.
Maybe you aren't a Patreon (you should be), so you might not have seen the video. So here's the tale of the tape I compiled for the Islanders vs. the Capitals this season. See if you can spot that one number.
Record vs Caps: 2-3-0
Goals-For/Game: 3.00
Goals-Against/Game: 3.20
PP: 16.7%
PK: 50%
Shots-For/Game: 31.6
Shots-Against/Game: 26.6
New York Islanders need to stay out of the box
Did you see it? I'm sure you did. That 50% efficiency on the penalty kill tells you everything you need to know about the season series between these two rivals.
The Islanders take penalties and the Capitals make them pay for it. A lot.
In five games this season, the Islanders have been shorthanded a total of 12 times against the Capitals. That's an average of 2.4 times shorthanded per game. That's just too many penalties.
At this point, we all know what the Washington Capitals are going to do. They're going to get in the Islanders face and try their best to get under the skin of anyone wearing blue and orange. Specifically, Mathew Barzal. They've been doing it since game 4 of the playoffs last year and it works. Why stop now?
I know it's often said, "the key to the game is staying out of the box". But it's particularly important for the Isles to stay out of the box against the Capitals because the Isles are only effective at killing at penalty HALF the time.
If they can do that, they'll take away the Capitals primary weapon and give themselves a great chance to win.