Islanders: Robin Lehner Says Ilya Sorokin Is A Top 5 Goalie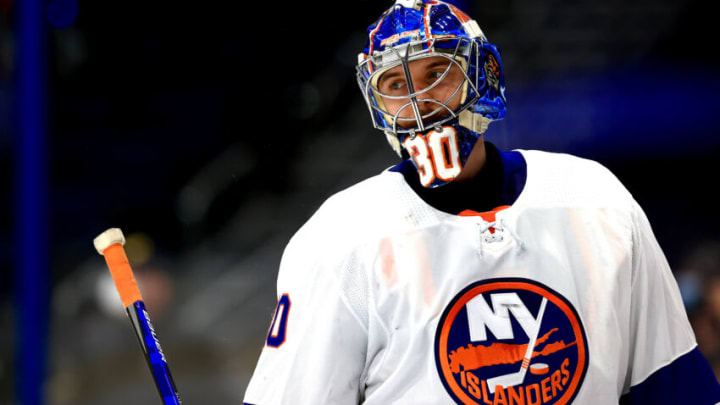 TAMPA, FLORIDA - JUNE 21: Ilya Sorokin #30 of the New York Islanders looks on during the second period against the Tampa Bay Lightning in Game Five of the Stanley Cup Semifinals during the 2021 Stanley Cup Playoffs at Amalie Arena on June 21, 2021 in Tampa, Florida. (Photo by Mike Ehrmann/Getty Images) /
The Ilya Sorokin hype is something that New York Islanders fans have been dealing with for about half a decade now. When he was drafted back in 2014, the thought was that maybe this KHL phenom will someday come over to the U.S. but it was up in the air for a long time.
From 2015-2016 through the KHL's 2019-2020 season, Sorokin was a stud. He averaged a .938 save percentage and a 1.38 goals against average over that span.
Finally, this past year, he made his way over to the NHL, and man did he put on a show. He went 13-6-3 with a .918 save percentage and a 2.17 goals against average. You can't ask for much better than that from a rookie.
Heck, he even got some playing time in the playoffs and was strong for Barry Trotz. He went 4-1 in five starts with a .922 save percentage and a 2.79 goals against average.
Well, yesterday, former Islanders goalie Robin Lehner took to Twitter to answer some questions and one of them was the top five goalies in the league excluding him. His answer included the Islanders' phenom.
Is Sorokin really a top-five goalie already? Sorokin was 10th in the league in save percentage for qualified starters and his goals against average was good enough for seventh in the league. Maybe it's not as hot of a take as I originally thought.
That's not to say that I'm down on Sorokin or don't appreciate his greatness. Instead, it was more of a sample size thing and inexperience that kept him out of my own personal top-five. I think one day he very well could be a top-five goalie but he may be closer to top-five right now than I originally thought.
Personally, I still think Semyon Varlamov is the starter on this team and better (for now) but that might not be for too much longer. Is there a Lehner bias for the Isles choosing Varly over him back in 2019?
Want your voice heard? Join the Eyes On Isles team!
Regardless of whether there is or isn't, the point is that Sorokin is thought of very highly in NHL circles. The Isles have their franchise guy, and I can't wait to see more of him this season in the Barry Trotz, Mitch Korn, Piero Greco mold.