Grading the Islanders' Recent Signings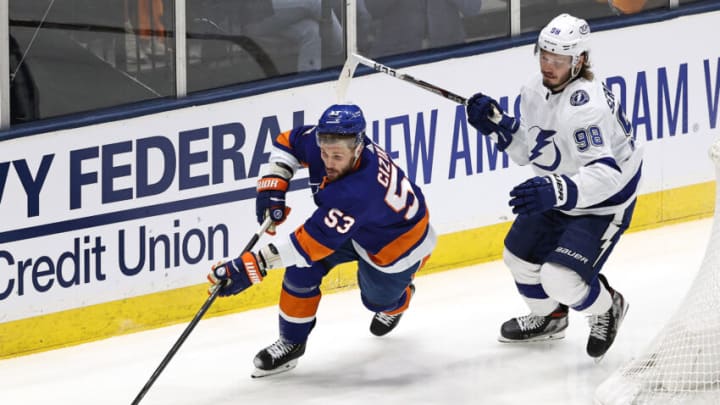 UNIONDALE, NEW YORK - JUNE 17: Casey Cizikas #53 of the New York Islanders is pursued by Mikhail Sergachev #98 of the Tampa Bay Lightning during the second period in Game Three of the Stanley Cup Semifinals during the 2021 Stanley Cup Playoffs at Nassau Coliseum on June 17, 2021 in Uniondale, New York. (Photo by Elsa/Getty Images) /
The New York Islanders finally announced a signing! No, wait, let me rephrase that – the New York Islanders finally announced four signings. Lou Lamoriello waited until September, then casually released four contracts at 11 AM on a Wednesday. As always, it's Lou's world and we're all just living in it.
But how good were the contracts? I'll take a look at each player and evaluate whether their new contract is a bargain, a fair deal, or a steal. You may disagree with me (you probably will) and that's fine – feel free to put your own grades in the comments below.
But without further ado, let's get into it, starting with…
Anthony Beauvillier – 3 years, $4.15 million AAV
In all of my articles, I've been assuming Beauvillier would get about $4 million, and it turns out I was pretty much right. I wrote an article about the Islanders' left wing depth which has a longer profile of Beau (check it out here) but, long story short, he's a pretty good forward with tons of potential.
Advanced stats paint an even more optimistic picture:
Beau is already a good second-liner, and at age 24, he'll almost certainly get better. And $4.15 million is probably a fair price, and arguably a bit of an underpayment.
According to CapFriendly's Contract Comparables tool, the most similar recent contracts to Beau's were Connor Brown, Sam Bennett, Jakub Vrana, and Kevin Labanc. I'd argue he is better than all of those players.
He'll be a UFA at the end of this contract, when (if he's improved, which we hope he is) he'll get a raise. But for now, I think he's worth the money.
Grade: Slight Bargain
Ilya Sorokin – 3 years, $4 million AAV
After years and years of waiting, Ilya Sorokin is finally here. And now, he's here for three more years.
In Sorokin's first and (so far) only NHL season, he played 22 games, going 13-6-3 with a 2.17 GAA and .918 save percentage. Those are genuinely really good numbers. Of course, take them with a grain of salt, as Soro mostly played against weaker teams last season.
I've been assuming Sorokin would sign for about $3 million, so my estimate was a bit off. But he's also here for three years instead of two, which is always good for a young player – if and when he improves, he'll be on a relatively cheap deal.
According to CapFriendly, the closest comparable contracts to Sorokin's deal are Tristan Jarry, Elvis Merzlinkins, Jordan Binnington (in 2019), and Alex Nedeljkovic. Is he better than Nedeljkovic? Right now, no, although they're both young enough to improve a lot.
Binnington, when he signed that contract, was coming off an incredible year in which he won the Stanley Cup and finished 2nd in Calder voting (and 9th in MVP voting). He's gone downhill since then, but at the time he signed the contract, was better than Sorokin is now.
It's a similar story with Merzlinkins – he was coming off a good year when he signed, and at that time, had pretty similar stats as Sorokin.
Then there's Tristan Jarry, who at the time he signed the contract, was slightly worse than Sorokin. Of course, he then got… to put it kindly, much worse. Anyone who watched the Islanders-Penguins series this year would take Sorokin over Jarry in a heartbeat.
So overall, Soro's contract stacks up somewhat well with his comparables – he's worse than two of them, similar to one, and better than one. In a year or two, this contract could easily be an absolute steal, but it's hard to call it one yet.
Grade: Slight Overpayment
Kyle Palmieri – 4 years, $5 million AAV
Palmieri, a Long Island native, had a rough year last year, leading many to call the trade for him a bust. But that ignored the number one rule of deadline deals: don't judge a trade until the playoffs are over.
Palmieri scored just 4 points in 17 regular-season games with the Islanders, but then found his scoring touch again, with 7 goals and 9 points in 19 playoff games.
Looking at his career stats, Palmieri is consistently above 0.5 points per game, usually ending at around 0.6. Last year was (hopefully) just a blip, in which he got somewhat unlucky.
As JFresh points out, Palmieri is also good on the power play, an area in which the Islanders could always use a boost. A full year (or 4 full years) of Palmieri should elevate Barzal and the rest of the power play.
Palmieri's closest contract comparables are Brandon Saad, Jaden Schwartz, Mike Hoffman, and Tyler Toffoli. If we assume this past year was just bad luck, Palmieri actually seems to fit right in with those players.
(Interestingly, the 11th-closest contract to Palmieri's was the one Jordan Eberle signed in 2019. Hard to be upset with that – I liked Eberle, but Palmieri is better and slightly cheaper.)
Grade: Fair Deal
Casey Cizikas – 6 years, $2.5 million AAV
And now we come to Casey Cizikas, who really exemplifies everything we love about the Islanders. He doesn't score a ton, but plays great defense, kills penalties, and works hard every single shift.
He's worth the money, no doubt about it. But when I first saw this signing, I thought that giving 6 years to a physical 30-year-old player was a bit risky. However, having thought about it more, I'm now absolutely fine with it.
The salary cap is going up. Slowly at first, but it will increase steadily over the next few years, and could be as high as $90 million by the last few years of this deal. $2.5 million just won't seem like a big deal, even if Cizikas gets much worse, which he might not.
There are no contracts that score better than 80% on the comparables tool, so I'll skip that for now. If you're curious, check them out here.
I'd rate this contract a steal, but that implies the player got somehow tricked or negotiated down, and I don't think that's what happened. Casey wants to be here, and he understood the Islanders' cap situation well enough to know that staying here meant taking a discount.
In fact, when Cizikas was approached by the Seattle Kraken, he reportedly demanded over $5 million – yet he was willing to stay on the Island for just $2.5 million, although admittedly over a longer duration.
Cizikas very clearly wants to stay here for the rest of his career, and personally, I'd be more than okay with that.
Grade: Bargain
What do all these signings do to the Isles' salary cap? Can they afford a replacement for Nick Leddy? Is a trade still possible? I'll answer all those questions in another article in a few days. If you have another question you'd like me to answer, ask me on Twitter or put it in the comments below!