Islanders: Ilya Sorokin Expectations For 2021-2022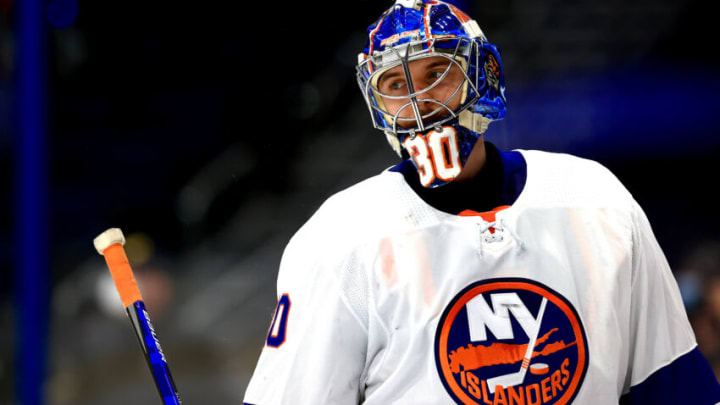 TAMPA, FLORIDA - JUNE 21: Ilya Sorokin #30 of the New York Islanders looks on during the second period against the Tampa Bay Lightning in Game Five of the Stanley Cup Semifinals during the 2021 Stanley Cup Playoffs at Amalie Arena on June 21, 2021 in Tampa, Florida. (Photo by Mike Ehrmann/Getty Images) /
Ilya Sorokin was as good as advertised for the New York Islanders during his first season in North America. Although it didn't start that way for him, after a freak injury to Semyon Varlamov in warmups, Sorokin was thrown into the fire for the second game of the year.
He gave up five goals in a loss to the Rangers, sporting an .844 save percentage. In fact, he'd lose his first three appearances giving up a total of 11 goals. It was a tough start for the rookie, but man did he turn it around after that.
Over his next 19 games, he'd record a .927 save percentage and three shutouts. He'd finish the regular season with a 13-6-3 record carrying a .918 save percentage and a 2.17 goals against average.
Sorokin was clearly the 1b in this goalie duo, but he played his role perfectly. He even had to play some emergency hockey in the playoffs and he was fantastic.
In five starts, he'd go 4-1 with a .922 save percentage and a 2.79 goals against average. The GAA ended up a tad on the high side after a clunker against Boston but overall, Sorokin was steady for the Isles in relief of Semyon Varlamov.
Now, fresh on a new three-year $12 million ($4 million AAV) contract his role should increase slightly more. Here's what to expect from Sorokin in 2021-2022.
2021-2022 Ilya Sorokin Expectations
Last year, Sorokin started 37.5 percent of the games for the Islanders. In a shortened season, he received 21 starts to Varlamov's 35. This year, that will be much closer to a 50/50 split. Expect Ilya Sorokin to start somewhere around 36 games for the Islanders (44 percent).
Varlamov will still be the 1A, but over an 82 game season, he will need to be spelled a little bit more. As for save percentage and goals against, I think you can expect somewhere around a .920 save percentage and a 2.43 goals against average.
Sorokin's save percentage will be roughly top-12 in the league while his goals against comes in around the 15th mark. Sure, the GAA is much higher than last year but a 2.17 goals against average over a full 82 game season sounds just ridiculously high.
This will be Sorokin's last year as a "backup" as he will take over the reins as a starter for the 2022-2023 season for the Isles.