Islanders Long-Term Deal with Ryan Pulock is the NHL Model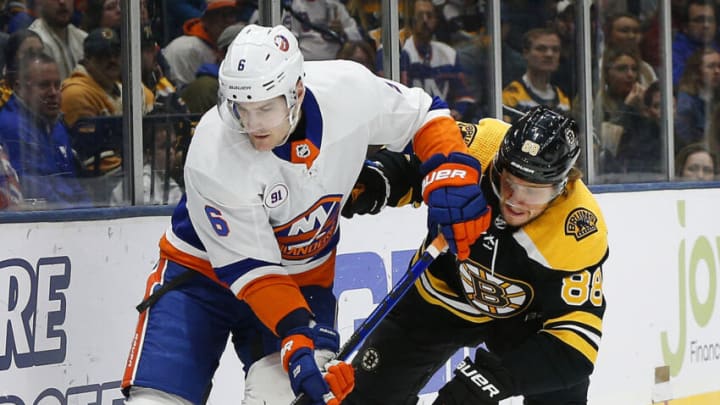 Feb 29, 2020; Uniondale, New York, USA; New York Islanders defenseman Ryan Pulock (6) and Boston Bruins right wing David Pastrnak (88) battle for position during the first period at Nassau Veterans Memorial Coliseum. Mandatory Credit: Andy Marlin-USA TODAY Sports /
The New York Islanders got a major piece of business done right before the start of the regular season. They locked up Ryan Pulock on an eight-year extension. The Pulock deal should be the model for the NHL.
The major contract situation lurking for the New York Islanders this coming off-season was getting Pulock signed. The 2013 first-round pick was scheduled to become an unrestricted free agent come July 2022. Not anymore.
NHL Model
The Pulock contract is how long-term deals are supposed to work between a team and the player when that player has yet to hit unrestricted free agency. The player gets long-term security but does not get paid his unrestricted free agent annual value. Why do you ask? The answer is because he isn't an unrestricted free agent yet.
Pulock had one more year to go before he hit unrestricted free agency. The Isles used their eighth year to their advantage (only the Islanders could offer an 8-year contract) and both sides got the deal done.
Pulock's annual number is $6.15 million. On a 7-year deal (the most any other club could offer come free agency) another team would have to offer him $7 million annually to match the overall value of his new Isles contract.
Could Pulock on the open market received offers at seven years between $7.5 – $8 million? Very possibly especially if Pulock put up a big offensive season which is very capable of doing. Pulock is a big right-handed defenseman that has a two-way game and just turned 27. Had he become an unrestricted free agent the interest in him would have been enormous.
So why sign? Because in addition to his current season salary of $5 million dollars, Pulock is now guaranteed nearly another $50 million dollars. It doesn't matter if he has injuries or poor play or what the circumstances turn out to be, that's now his money, guaranteed.
That push and pull of long-term deals between long-term security and a lesser annual salary are how these deals are supposed to work. Not give me a long-term deal now and pay me like an unrestricted free agent even though the player is not.
Eliminate Off-Season Drama
Getting the Pulock contract done now eliminates major off-season drama for the blue and orange. Since Lou Lamoriello has come on board each off-season he has had to deal with major drama regarding his free agents (both restricted & unrestricted).
In the upcoming off-season, the Isles restricted free agents are Noah Dobson, Kieffer Bellows, and Sebastian Aho. Let there be some drama because that probably means Dobson has had a huge season this year.
In terms of the Isles unrestricted free agents, next summer they are all role players in Cal Clutterbuck, Leo Komarov, Thomas Hickey, Ross Johnston, and their veteran signings this summer in Zach Parise and Zdeno Chara. The focus next summer can now be locking up Mathew Barzal ahead of time (Barzal signed for next 2 season but come this summer is eligible to sign an extension).
The Pulock deal is a win-win for the player and the New York Islanders organization.