Islanders Ilya Sorokin Shines With Back-To-Back Shutouts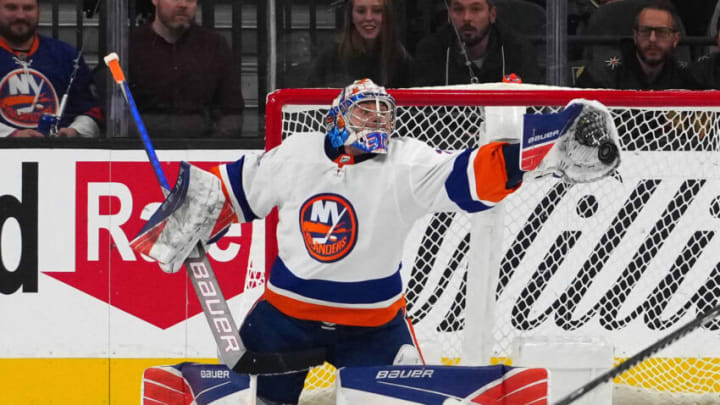 Oct 24, 2021; Las Vegas, Nevada, USA; New York Islanders goaltender Ilya Sorokin (30) makes a save in the first period against the Vegas Golden Knights at T-Mobile Arena. Mandatory Credit: Kirby Lee-USA TODAY Sports /
Apparently, doubting Ilya Sorokin after two games was a bad idea. The New York Islanders netminder was fantastic this weekend as he posted back-to-back shutouts for New York in their much-needed wins.
The Isles had a hot start out of the gate last night when Josh Bailey got them on the board just 2:16 into the first period:
He needed that badly, as his slow start through four games was extremely noticeable but in the last two, Bailey has looked much more like himself. The first was a fairly even back and forth period, but the second looked like the 2021 version of the Islanders.
Last year, the team was awful in the second frame and that was absolutely the case for them in Vegas last night. They were outshot 14-4 but luckily, Ilya Sorokin was fantastic keeping them in it the entire way.
In the third, Vegas kept the pressure combing but this time the Islanders stuck with them. It was still tilted towards Sorokin but not nearly as bad as what it was in the second. Finally, at 7:33 of the period, the Isles would breakthrough once again.
Now this one was pretty. First, what a play by Josh Bailey to keep it in the zone, and then how about Mathew Barzal going top shelf to beat Robin Lehner. That would be enough as Ilya Sorokin got the shutout stopping all 42 pucks that he faced.
After his most recent performance, he's Sorokin is now 3-2-1 with a .933 save percentage and a 2.33 goals against average. I guess, counting him out after two bad starts probably wasn't wise.
The Islanders now receive a much-needed break as they don't play until Saturday against Nashville. The team can come home and rest for a little bit before continuing their 13 game road trip.