Islanders Ilya Sorokin becoming number one goalie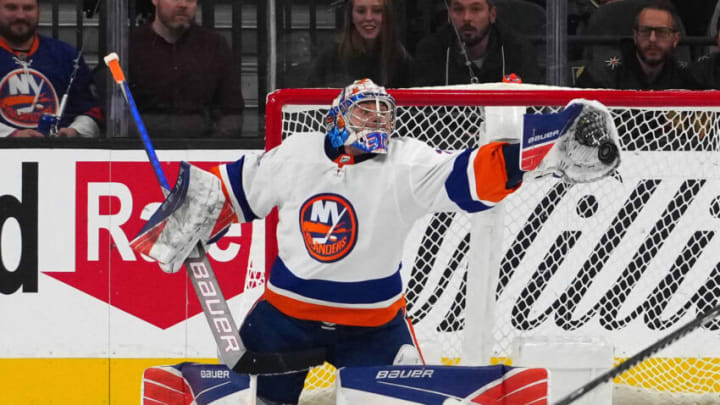 Oct 24, 2021; Las Vegas, Nevada, USA; New York Islanders goaltender Ilya Sorokin (30) makes a save in the first period against the Vegas Golden Knights at T-Mobile Arena. Mandatory Credit: Kirby Lee-USA TODAY Sports /
The New York Islanders continue on their marathon 13-game road trip to start the season. One storyline that has emerged is that Ilya Sorokin is becoming the Isles' number one goalie.
The New York Islanders have yet to play their A-Game. But with each game, they have played better and better and are building towards their optimum level.
The Islanders' best player to start the season has been Sorokin, bar none.
Changing of the guard for the New York Islanders
The Isles probably have the best goalie tandem in the league with Sorokin and Semyon Varlamov. Few hockey experts would argue with that.
The Isles enter Sunday night's contest against the Minnesota Wild with a record of 5-2-2. A lot of that has been due to Sorokin.
While the Islanders continue to build on their game, Sorokin's play has allowed them to accumulate points and start the season with a very solid record.
Sorokin has played the first nine games for the blue and orange and during that time he has a goals-against-average of 1.98 and a save percentage of .939. Also, throw in three shutouts, which could easily be as many as five bagels.
It's becoming clear that Sorokin is continuing to develop into that franchise goalie that the organization and the fanbase were hoping for since he was a big-time prospect. The organization and the fans had to wait a long time for Sorokin to come over from Russia but he is proving he was worth the wait.
Moving Forward
In terms of moving forward during the regular season expect Sorokin and Varlamov to alternate games (provided no injury issues). The Isles have a busy schedule ahead of them once the calendar hits the latter stages of November.
Barry Trotz will have the luxury of using two goaltenders and keeping both guys fresh. This has been a trademark of Trotz going back to his first year with Robin Lehner and Thomas Greiss and then Varlamov and Greiss.
However, the early indications are that Sorokin is starting to claim the number one goalie spot. More importantly, come playoff time it's looking like Sorokin will be the guy.
Sorokin has become more and more comfortable as time has gone on. With that has come more confidence and with that, his play continues to get better and better. The kid's talent and work ethic are off the charts and that's a great combination for any athlete to have.
The Islanders are in a great position with two top goalies but we are starting to witness a changing of the guard.