Recent Islanders signings: The Good, The Great and The Ugly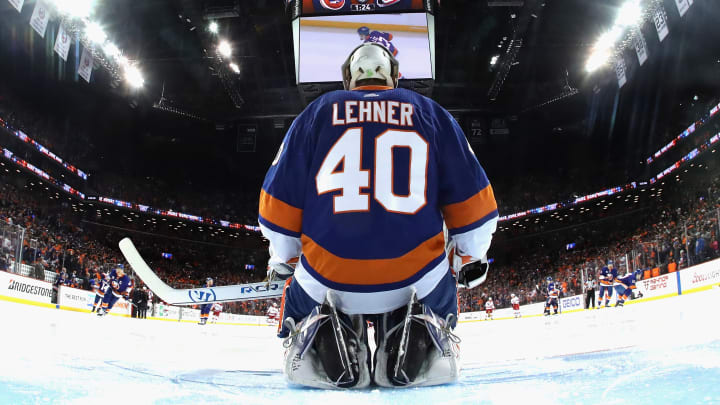 Carolina Hurricanes v New York Islanders - Game Two / Bruce Bennett/GettyImages
THE GREAT
Carolina Hurricanes v New York Islanders - Game Two / Bruce Bennett/GettyImages
Days after John Tavares left for Toronto, the Islanders still held other needs to fill, including one in the net. GM Lou Lamoriello decided to take a chance on the talented, but erratic Robin Lehner signing him to a one-year $1.5 million contract. After posting pedestrian numbers in his final season in Buffalo, Lehner needed the Isles and the Isles needed Lehner.
Shortly after signing with the Islanders, Lehner decided to make his struggles with substance abuse and thoughts of suicide, public. In an article posted to The Athletic, by himself, Lehner goes into detail about the demons he faced throughout his career up unitil that point.
"Since the new year began I had been feeling severely depressed and my drinking increased. I was heavily drinking a case of beer a day just to settle the demons in my mind and then took pills to sleep. I was self-treating myself because I could not be inside my own head by myself. The thoughts of ending it all … it was real and close."

- Robin Lehner
After opening up about the struggles he faced day in and day out, Lehner started to come into his own and improve as the season aged. He posted a 2.13 GAA and a .930 Save % and would go on to win the Williams Jennings Trophy alongside Thomas Greiss, while being finalist for the Vezina trophy.
After just one season the organization decided to move on from Lehner when they decided to sign Semyon Varlamov. Lehner made a massive connection with the fan base in his short time with the Islanders. The fans had such an impact on Lehner and his career that he decided to have Long Island permanently imprinted on his skin.