New York Islanders: Replace Howie Rose with Rick DiPietro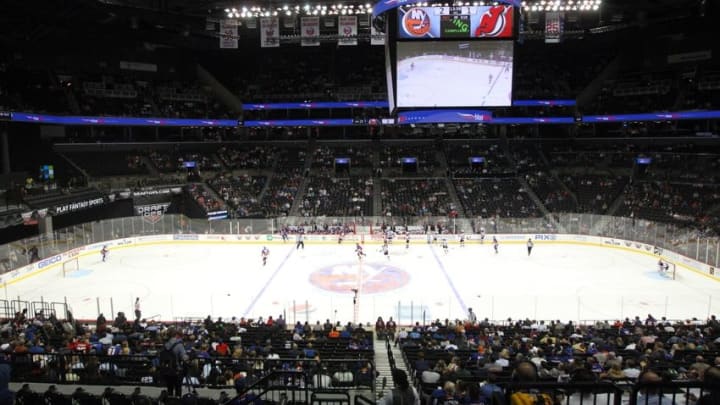 Sep 23, 2015; Brooklyn, NY, USA; General view of the ice during the third period between the New York Islanders and the New Jersey Devils at Barclays Center. Mandatory Credit: Brad Penner-USA TODAY Sports /
Howie Rose has seen the end of his 21 year career as the New York Islanders TV play-by-play announcer. A tenure that undoubtedly was difficult for almost everyone involved within the organization. Who can fill the illustrious gap that Howie leaves? The Islanders' very own Rick DiPietro may be the best fit.
Howie Rose spent over two decades in an on-air capacity for the New York Islanders but was ultimately able to end his time with the team on a high note. None other than John Tavares' over-time winner against the Florida Panthers this post-season.
Howie also worked as an announcer for the New York Mets during his time with the Islanders. The combination of baseball and hockey seasons resulted in very little downtime which ultimately led to his decision to leave the Islanders.
How can the Islanders, and MSG, replace someone who has become a staple in the homes of Islanders fans across the country? The answer may lie with former Islanders' net-minder, Rick DiPietro.
Rick DiPietro's Career Struggles
On  a recent segment of the "Hahn and Humpty Show", DiPietro sheds some light on what culminated to a very disappointing career in his eyes. Rick reminisces about signing his behemoth  contract and his dreams of "a Stanley Cup to [his] name, number gets retired, working for the organization". Those dreams clearly didn't pan out for the budding young goaltender.
It is no secret that Rick's career was a disappointment. Appearing in 318 games, he posted a 2.87 GAA and a .902 SV%. Those are absolutely not the numbers of a starting goalie in the NHL, let alone a goalie that was drafter 1st overall.
DiPietro's struggle was not due to his lack of talent, but due to his complete inability to stay healthy. I also make the argument that even if he managed to stay healthy, it would be very difficult for him to live up to the expectations placed on him. Since 1963, that's 53 years, a goalie has been drafter 1st overall only 3 times.
On top of being drafted 1st overall, which is not typical for goaltenders, DiPietro signed the longest contract in NHL History. In September 2006, the Islanders inked him to a 15 year deal totaling $67.5 million ($4.5 million AAV). With signing a contract that would have extended until he was 40 years old, it was virtually impossible him to live up to the value of that contract.
A combination of term and value of his contract plus his draft status and inability to stay healthy led to a perfect storm of disaster in relation to Rick DiPietro's professional career. In contrast, things have been looking up for Rick as of late.
DiPietro: The Next Voice of the Isles
Despite a professional hockey career that didn't amount to much, DiPietro has poised himself for an excellent run as the Islanders next broadcast man.
Operating opposite of Shannon Hogan, DiPietro has quickly become known for his unique style of clothing but he brings much more to the table that eccentric blazers and neck ties.
Butch Goring brings a player's viewpoint to the broadcast booth but by bringing Rick into the fold, the analysis will grow immensely. Since Butch has been out of the league since 1987, pairing him with DiPietro will modernize the view point of the analysis and will provide and interesting contrast between an Islanders player from the dynasty years and an Islanders player that saw some dark days.
On top of a fresh view point, DiPietro's struggles in the league discussed above, offer insight that may often be glossed over if covered by someone who hasn't experienced the struggles of the league first hand.
Not only does he possess a background that would be difficult to find elsewhere, but he has also proven that he can handle himself when it comes to on-air analysis.
As the season progressed, Islanders fans saw Rick appearing more and more between intermissions and post-game with Shannon in order to provide excellent dissection of a wide variety of plays.
The New York Islanders have lost a piece of history with the retirement of Howie Rose but they may have found themselves an answer in an unlikely place; the 2000 NHL draft.
Next: New York Islanders Could Draft Luke Kunin
Filling the opening with former goaltender Rick DiPietro seems like an easy decisions for the Islanders and MSG Network. The only thing standing in the way should be the posibility of him joining the Islanders coaching staff, where he would also be an invaluable asset.