New York Islanders: Between the Draft and the UFAs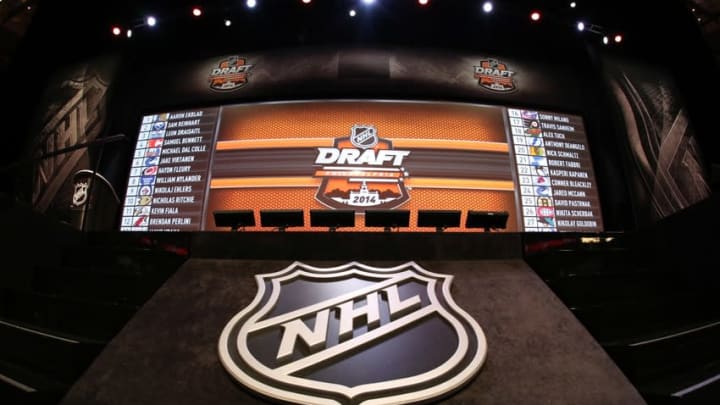 Jun 27, 2014; Philadelphia, PA, USA; A general view of the complete draft board after the completion of the first round of the 2014 NHL Draft at Wells Fargo Center. Mandatory Credit: Bill Streicher-USA TODAY Sports /
The New York Islanders and General Manager Garth Snow are on the clock, irrespective of the draft.
What were the expectations for this New York Islanders team that Garth Snow took ten years to build? I can buy the idea that this front office regime started with a deep hole. So some leeway is given. And I imagine just about any fan supports an effort to create a long stretch of legitimate Stanley Cup contention. That takes patience. So more leeway is given.
What I don't think Islander fans swallow easily is the notion that a single series victory represents the pinnacle. So while we love Kyle, we love Franz, and we love Matty, we love winning more. And we support the General Manager's quest to enhance our chances of winning. Now let's see him do that.
The last week of June 2016 will be remembered as the week that… what? A winner was built?   The rebuild was torn asunder? Tavares' escape plans were formalized? Snow became the new Torrey? Or the new Milbury? None of that.
What has happened so far? There was a draft where the Isles loaded up on left wings from the US, from Russia, from Finland. There's a rookie camp that featured the surprise appearance of the potential, eventual, possible savior. Otherwise, not a thing that is likely to have any impact on the next several seasons. That's closer than it is far away.
There's no point in having the discussion of what comes next unless you start with Stamkos. There's room under the cap and a desperate need for another top line talent. The former Sarnia Sting represents the only clear upgrade to the players who are leaving. But there are at least a half-dozen other teams – some with much greater recent track records for sustained contention. So you better have a few other tricks up the
But there are at least a half-dozen other teams – some with much greater recent track records for sustained contention. So you better have a few other tricks up the ole' sleeve. I'll try to come up with a few that haven't been discussed to death already.
Options for the Islanders
Is there a way to get Lee Stempniak cheaply enough, to leave room for a bigger signing? For instance, if you signed Stempniak for $2.5 million, and Frans Neilson for $5mil, might it leave you enough money for Andrew Ladd at another $5mil?
Could Sorokin buy out his KHL deal now? Technically, he could. We have no idea if he, or Garth Snow, have any interest in that. And neither of them may know that for a few more days.
Sorokin would be on an ELC, and could move up and down between the Isles and Bridgeport. Griess would be the starter/place-holder. Berube would continue as third wheel. Halak and his $4.5 million cap hit would be moved along to another team, but with a much better plan in place than the non-Sorokin one.
Here's a crazy what if. What if the Islanders offer sheeted a Seth Jones or a Jake Trouba? Pull that off successfully and you'd feel a little more comfortable with those Hamonic for Hall assertions that keep popping up in the Edmonton media.
Here's a crazier what if. What if the Rangers were to be truly desperate to dump Rick Nash? With $2 million retained, Tavares would have a 5.8 million dollar winger with huge size and goal scoring pedigree. Have there ever been two first overall draft picks who spent their entire careers needing each other as much these two? They are each other's missing piece to a Hall of Fame career.
With two remaining years, it hardly burdens the Isles at all. In fact, it allows them to still sign Neilsen. In fact, if they give back Grabovski for the Rangers to LTIR, the Rangers just saved six million dollars that the Isles couldn't (because you can't really get LTIR credit until you go over the cap). And that would allow the Islanders to sign Stamkos instead of Neilsen.
And here's the craziest what if.  What if the Isles chased Corey Perry? Anaheim is looking to save money, diversify their offense, and sign their young defensemen. Throw them Anders Lee, Josh Ho-Sang, and the 2017 first rounder.
Next: Barclays Hamperring UFA Chase
And here is a perfectly sane road to follow, that will drive all of us crazy. Don't pay seven million AAV for seven years to Kyle Okposo. Refuse to ante up a contract that pays Franz Neilsen six million dollars when he is 37 years old. Decline the idea of a 3 million dollar AAV, long-term contract to fourth-liner Matt Martin. There's a lot of talent in Strome, and Nelson, and Barzal, and Dal Colle, and Ho Sang, and Lee. If only half of them come through, maybe the Isles are alright?