New York Islanders Anders Lee Will Have a Great 2016-17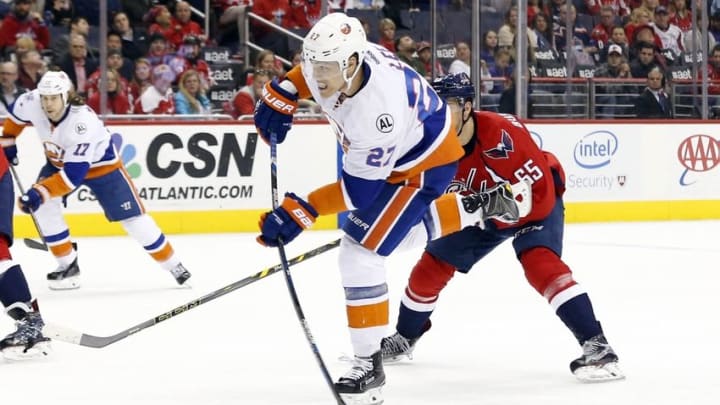 Apr 5, 2016; Washington, DC, USA; New York Islanders center Anders Lee (27) shoots the puck as Washington Capitals left wing Andre Burakovsky (65) chases in the third period at Verizon Center. The Islanders won 4-3 in overtime. Mandatory Credit: Geoff Burke-USA TODAY Sports /
The New York Islanders 2015-16 season had a few disappointments. But 2016-17 should be a bounce back year for a few of the Islanders forwards. Including Anders Lee.
New York Islanders forward Anders Lee did not have a fantastic 2015-16 season. After a 41 point  in 2014-15, his first full season in the NHL, Lee was looking to make another step forward last season.
In 80 games Lee was able to net 36 points. Off pace by last year's standards, but a decent return none-the-less. But Lee's season ended when a Johnny Boychuk slapshot broke his fibula in a game against the Rangers at the tail end of the season.
But there's an indicator that suggests there is more to see from Lee in 2016-17. An indicator that should have Islanders fans reveling in the possibilities.
Anders Lee's Shooting
The average shooting percentage in the league is somewhere between 8%-9%. In the 2015 season, shooting percentage was 8.98%. Anders Lee's in the same period? 5.91% in 5v5 situations. His 5v5 shooting percentage was actually the worst on the team by some distance.
In his previous two seasons, Lee had an 8.47% (14-15) and 8.72% (13-14) 5v5 shooting percentage. Very much within the league averages.
Just getting Lee back into average numbers would mean the world of a difference. Applying a 2.5% bump to his shooting percentage, to put him at ~8.5%, would have given Lee approximately 11 goals on the season in 5v5 situations. (reverse mathematics don't give you whole numbers)
That's five extra goals in the same setting. Immediately bumping his points total to 41 for the season and keeping him on par with what he had last season.
And 5v5 is where he needs the biggest help. His powerplay numbers are great. In just under 190 minutes of powerplay time, Lee scored seven goals on 40 attempts, good for 17.20%.
Shooting Range
Anders' strength is his play at the front of the net. That's what make him so effective on the powerplay. Just look at his shooting and scoring map from last season. Notice that half circle around the crease and how it's glowing red? That's Anders' danger area.
For most of the league, the high scoring area is that baseball plate-shaped spot in front of goal. For Lee, it's right in front of goal.
Now look at this most recent season. The data might not be complete, but you can already see how Lee is shooting from further out. His average shooting distance from net increased by almost two feet.
For Lee to be more effective next season he needs to get up closer to the net. Now whether that was Anders decision or how his coach uses him, is another question altogether.
Next: Five Islanders Ready for the NHL
Just looking at the shooting percentage and nothing else should tell you that Anders Lee's 2015-16 season was not as productive as it could have been. He should return to form in 2016-17 and potentially improve with the proper deployment and use of his talents.