New York Islanders Roster Moves Aren't Done Yet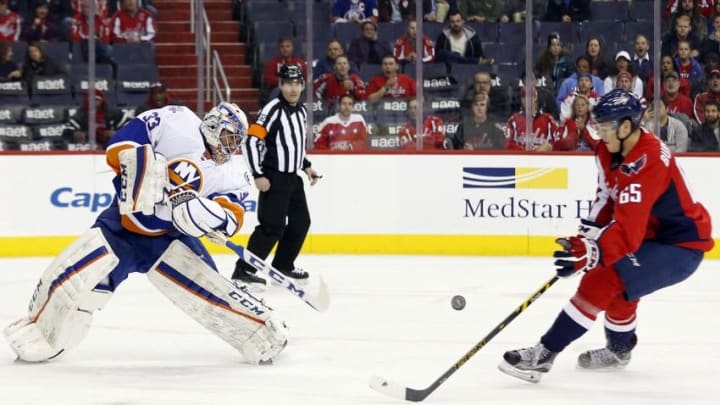 Apr 5, 2016; Washington, DC, USA; New York Islanders goalie Christopher Gibson (33) clears the puck from Washington Capitals left wing Andre Burakovsky (65) in the first period at Verizon Center. The Islanders won 4-3 in overtime. Mandatory Credit: Geoff Burke-USA TODAY Sports /
The New York Islanders made some moves to bring in some UFAs to the team at the July 1st deadline. But looking at the current roster and the Isles current cap structure you'd have to think they aren't done yet.
The New York Islanders went shopping in free agency by signing two-time Stanley Cup champion Andrew Ladd to a seven-year $38.5 million deal, then giving  Jason Chimera a two-year deal worth $4.5 million, and bringing back former player P-A Parenteau on a one-year $1.125 million deal.
By adding those deals to the books the Islanders now sit just under the $5 million mark in terms of cap space at $4.89 million according to Cap Friendly. But the likes of Ryan Strome, Christopher Gibson, Alan Quine, and Scott Mayfield are still without deals.
According to Arthur Staple, all received qualifying offers from the Islanders. It protects these RFAs from becoming UFAs and it keeps them within the Isles system. But with all these pending contracts the Islanders don't have the money to pay them all under the cap ceiling.
Qualifying Offers Don't Fit
We don't know exactly how much the New York Islanders offered their pending RFAs, but we do know the minimum they had to offer these players; see section 10.2 (A) of the NHL CBA.
Here a handy table for the minimum qualifying offers tended to all four players and the inflators for each. Adding them altogether totals a $4.929 cap hit:
Putting the two together shows that there just isn't enough room to sign these four players within the current constraints of the Islanders cap. And that's assuming that neither signs a deal more lucrative than the qualifying offer tended to them by the club. Which is incredibly improbable. That means that something's got to give, meaning someone's got to go.
Who's on the Way Out
So who gets the short end of the stick in all of this? The Islanders can't have it's cake and eat it too.
We've already seen the Isles lock up Jean-Francois Berube to a one-year deal a few days ago. Keeping the Isles three-headed goalie tandem together, much to the chagrin of hopeful starter Jaroslav Halak. Which means the Isles are likely going to move one of the three.
Thomas Griess has a great cap hit and is certainly a solid backup for any team in need of one. But you have to imagine that a goalkeeper is essentially in the Islanders "shop window" at this point. Regardless of what Gibson eventually signs for.
Even Halak has a great cap hit for a starter. At $4.5 million for the next two years. Seeing any of the three netminders move in the near future is an almost absolute possibility. It depends on how much room the Islanders want to make to sign their RFAs.