New York Islanders Ryan Strome Susceptible to Offer Sheet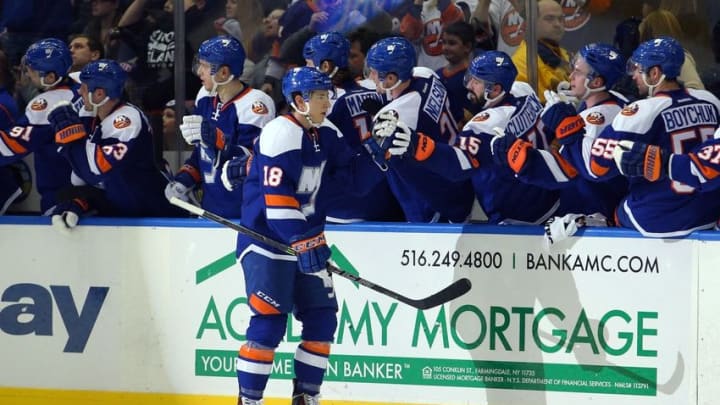 Jan 27, 2015; Uniondale, NY, USA; New York Islanders center Ryan Strome (18) celebrates his goal against the New York Rangers with teammates during the third period at Nassau Veterans Memorial Coliseum. The Islanders defeated the Rangers 4-1. Mandatory Credit: Brad Penner-USA TODAY Sports /
The New York Islanders have tended a qualifying offer to young center Ryan Strome and as such retain his rights. But with no deal and no arbitration Strome is very much susceptible to an offer sheet.
Earlier this week I presented that the New York Islanders find themselves in a tough situation with respect to the salary cap. They're almost at the threshold. Something that, as Isles fans we aren't inherently accustomed to.
Whether because of an accumulation of large contracts or because of a relatively flat cap, the Isles are right up against it going into 2016-17. With the recent signings of Scott Mayfield and Alan Quine, the Islanders find themselves with just over $3.6 million in cap space.
How they got here matters, but that can't really be changed easily. This isn't Men in Black, where a simple flash of a Neuralyzer can wipe clean the past and recreate it as one sees fit. So how does the Isles cap situation affect the team going forward?
Offer Sheet Threat for Strome
How does the threat of an offer sheet sound? Rather than think of who we can target via offer sheet we have to now worry if one of our RFAs gets an offer sheet. The likely target would be Ryan Strome.
Former fifth-overall draft pick and former 50 point scorer. Strome is an attractive asset for most teams. But only certain teams can afford the draft pick compensation they would have to give up as well as the contract they would have to offer.
The Arizona Coyotes immediately come to mind. They have money, they have the picks, and they have the need down the middle. They also have an intangible that no other team possesses; until maybe 2017.
Just look at those factors. Money. The Arizona Coyotes have, according to Cap Friendly, $16.368 million in cap space going into 2016-17. That's more than enough room to give Strome his fair market price and enough to price the Islanders out of matching the offer sheet.
Over the last two years, Strome has notched 78 points. Matching the likes of Alex Killorn, Elias Lindholm, Jakob Silfverberg, and Jordi Lethera
The Coyotes could offer Strome a premium to ensure his signature and to keep the Isles at bay, tending him a $3.5 million offer. Giving Strome $3.5 million over however many years would leave the Isles with a $100 thousand gap in wiggle room if they were to match. 
They still have Christopher Gibson to sign. An RFA that was given a qualifying offer by the club before the expiration of the qualifying offer deadline, and $100 thousand isn't going to be enough.
Related Story: Qualifying Offers Tended to Isles RFAs
Consider Depth, Compensation, and Family?
Then consider the Coyotes depth through the middle. Rotoworld has Vermette, Hanzal, Martinook and Richardson down the middle for the 'Yotes. The dropoff between 2-3 is remarkable. Slot in Strome in a 2-3 center with both he and Hanzal switching and they've created three offensively sound lines down the middle.
Arizona certainly has the draft picks to cover this sort of deal. Based on General Fanager's handy little Offer Sheet Eligibility table an offer sheet with an AAV ranging between $1.877 and $3.755 million would require a second round pick to go back to New York. A pick the Coyotes definitely have in the bank.
And then there's that one intangible. The ability to play with your younger brother Dylan. Dylan Strome was selected third overall just two years ago by the Coyotes has continued to destroy the OHL, producing 111 points in 57 games played.
Until youngest sibling Matt Strome gets drafted in next years Entry draft, the Coyotes are the only team to have this distinction. A distinction that has already been brought up in the elder Strome's young NHL career.
The Toxic Effect
What Arizona would have to give up to acquire Strome makes you wonder why they haven't done it yet. Why hasn't Chayka pulled the trigger on this? He's new and pragmatic. Why not?
It's likely that the politics of such a move are de-incentivizing him from pulling off such a move. Think David Poile talks to Ron Hextall? Even though he wasn't the Flyers GM to actually make the monster offer sheet for Shae Weber.
Even if Strome did sign an offer sheet with the Coyotes the Isles would have seven days to match the offer. Meaning they would have seven days to make enough room on the cap to match the offer.
Next: Isles New Owners Want to Win
Offer sheets are always out there as a threat, but seldom do we see them actually materialize as a tool to improve once club. Seems like a missed opportunity on an obvious and useful tool. Maybe the young Chayka will actually pull it off. It's certainly out there for him to do.