New York Islanders Are An Enigma In 2016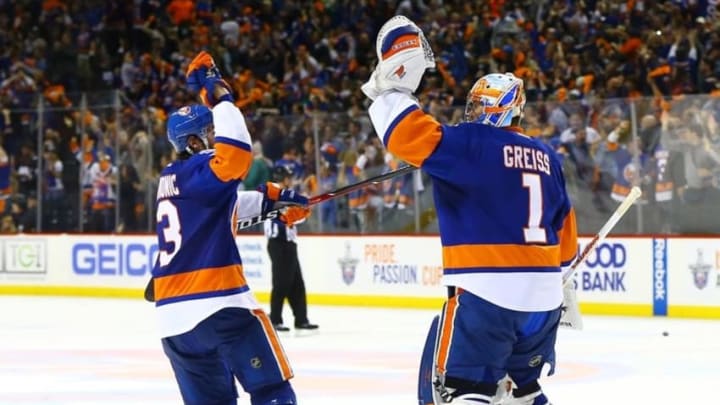 Apr 24, 2016; Brooklyn, NY, USA; New York Islanders center Casey Cizikas (53) congratulates winning goaltender Thomas Greiss (1) after the Islanders defeated the Panthers in game six of the first round of the 2016 Stanley Cup Playoffs at Barclays Center. The Islanders defeated the Panthers 2-1 to win the series four games to two. Mandatory Credit: Andy Marlin-USA TODAY Sports /
With roster turnover seemingly at an all-time high, the New York Islanders are going to be one of the hardest teams to predict for in the coming season.
The New York Islanders roster has seen some significant turbulence as of late. Kyle Okposo? Gone. Frans Nielsen? Gone. Matt Martin? Gone. Andrew Ladd? Here. P.A. Parenteau Here. Josh Ho-Sang? I don't know he's probably asleep.
Coming into the 2015-16 season the Islanders were an open book with no surprises. Everyone knew who they were. However, this season is looking like it will certainly break that mold with roster changes seemingly everywhere.
As stated two top tier talents in Okposo and Nielsen have left for new teams and fourth line superstar Matt Martin has also departed. All of those three were quintessential Islanders who will be missed not just this season but beyond. Their contributions to not only the final score of every game but to the culture of the team was undeniable and without them the team has definitively changed.
With these players leaving three new players take their place and they arrive in the form of Andrew Ladd, P.A. Parenteau, and Jason Chimera. These players bring their own particular skills and expertise to the team which will undoubtedly change how the team plays.
With those three loses and replacements alone the Islanders will look and play vastly different than last season's team, but that doesn't even account for young prospects rising through the system.
Islanders Youth Core
It is when we get to these young players that the true enigma of the Islanders is revealed. Michael Dal Colle, Matthew Barzal and Ryan Pulock all seem like they should be on the roster this year and if you ask me Josh Ho-Sang truly does need to get on the team as well.
With the Islanders, we are beginning to see a true sense of the unknown which is not currently felt among other contenders in the NHL, of which I believe the Islanders are one of.
No other fellow contender has these many key players joining via youth leagues and free agency with so many leaving as well. This will serve to be a true asset to the New York Islanders when the season comes to an end.
A mixture of unpredictability and energetic players is something which can lead to a type of organized chaos which the New York Islanders could hone into to truly shock and defeat the giants of the NHL.
Their new players seem to be talented and flexible enough to mold and do whatever the team asks of them and it is this which will serve as the key for the Islanders this season.
Next: New York Islanders Top Ten Goals of 2015-2016: Number Nine
This next season will be confusing and challenging for the New York Islanders. However, with their mix of new and old talent this team will be unpredictable and talented enough to truly shock the entire league, and I believe lead to Lord Stanley's Cup being lifted in Brooklyn.