New York Islanders Expansions Woes are Their Own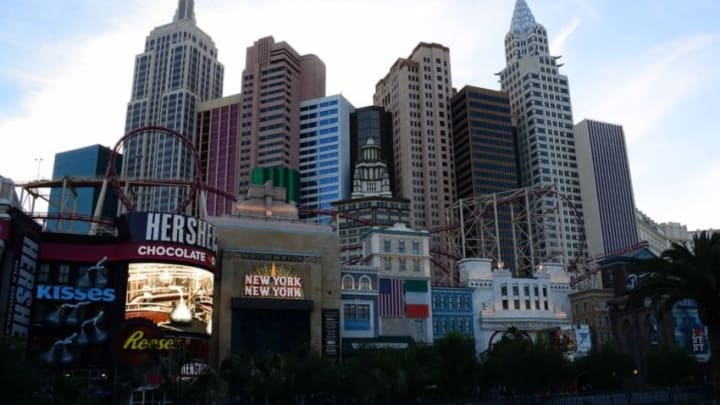 May 11, 2016; Las Vegas, NV, USA; General view of the New York-New York hotel and casino on the Las Vegas strip on Las Vegas Blvd. Mandatory Credit: Kirby Lee-USA TODAY Sports /
The New York Islanders, like every other team need to approach the expansion draft with trepidation. They know they are going to lose a player, they just have to make sure it won't set them back.
The upcoming expansion draft is going to be exciting. The new Las Vegas "whatevers" are going to be a competitive team in their maiden season, thanks to NHL expansion rules. But are the New York Islanders at a disadvantage compared to the other 29 teams?
Remember that before his most recent gig as the first GM of the Las Vegas "well-find-out-soons" George McPhee worked for the New York Islanders in an advisory role under Garth Snow.
McPhee knows the New York Islanders organization well, he knows our strengths and our weaknesses. So, will he come after us at the expansion draft? Or will he maybe go easy on us?
Some believe that the Islanders will be vulnerable when the expansion draft rolls around in the summer of 2017. Which is absolutely possible, because that's what the NHL set out to do with expansion draft rules. Every team is going to lose a player of value.
The NHL wants the Las Vegas "enter-veiled-gambling-reference-heres" to be competitive on day one. Not in years from now, but right from puck drop in 2017-18.
Which means teams, such as the Islanders will be vulnerable. They will lose an important piece of their team and get nothing in return. But if that drafted piece cripples the team there is only one person to blame, and that's our GM and not George McPhee.
Know the Rules
Garth Snow's job is to know the rules or to place people around him that know the rules, and advise him on how best to prepare for this draft.
It's not like the rules aren't known to the GMs of the league's 31 teams. They were officially released by the NHL just a few days after the Las Vegas "we'll-totally-think-of-something-cools" were awarded a franchise. And everyone and their mothers has used General Fanager's sweet expansion draft tool.
What assets need protecting and which ones he could relatively live without will be Garth Snow's task. McPhee's task will be to draft the best available talent from the 30 teams, including the Isles, on draft day.
Next: Consistency Ain't What You Think It Is
McPhee can only take one player. If the New York Islanders are crippled by his selection, it wasn't because he sought to take advantage of his previous employer, it was because our GM went about his task wrong and left the wrong player exposed.