New York Islanders Mikhail Grabovski's Status Presents Opportunity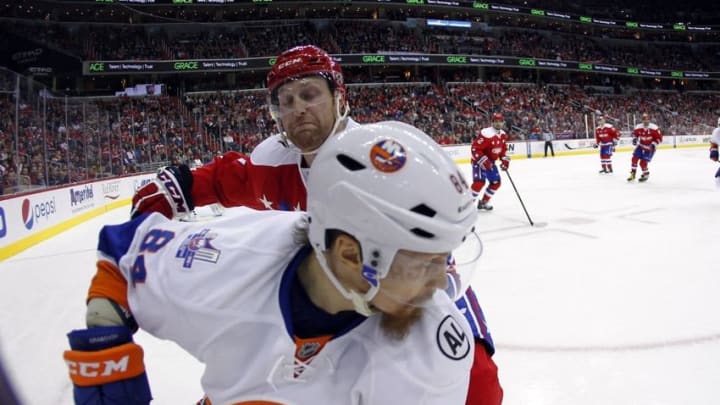 Feb 4, 2016; Washington, DC, USA; Washington Capitals defenseman Karl Alzner (27) checks New York Islanders center Mikhail Grabovski (84) in the third period at Verizon Center. The Capitals won 3-2. Mandatory Credit: Geoff Burke-USA TODAY Sports /
New York Islanders players, fans, and media emerged from summer with the first day of training camp. But it wasn't all good news for every player on the Isles roster.
Mikhail Grabovski reported to the New York Islanders camp today. He didn't speak to media, but he was there. All summer long fans wondered how healthy he was, and today we found out.
Grabovski is still suffering from post-concussion symptoms and was not cleared to play by the team's doctors.
Now, what does that mean for the team? Grabovski carries a sizeable $5 million cap hit over the next two season. What do they do with the 32-year-old?
A lot of fans want Grabovski and his $5 million cap hit out the door at the first opportunity. But that's not so easy.  Just like any trade you need a party willing to take the contract.
Any Team Need To Make the Floor?
The first key for any trade is for both teams to agree that the transaction represents value for each side. In the case of Grabovski, a player plagued by post-concussion symptoms, who isn't medically cleared to play, doesn't represent value in terms of on-ice performance.
His value is his cap hit. In the hard-cap world that is the NHL a team's proximity to either the cap ceiling or cap floor become very valuable considerations when it comes to player acquisition.
In the last few seasons, we've seen team's at the bottom of the cap allocation charts start to take on bad or dead contracts in order to meet the cap floor.
The Arizona Coyotes have both Chris Pronger ($4.9 million) and Pavel Datsyuk ($7.5 million) on the roster. One who is all but officially retired and the other who retired from the NHL to play hockey in Russia (and see his daughter), so count them out as a trade partner.
The Carolina Hurricanes, with their $16 million worth of cap space, the largest in the league, seem like a destination that could work. But their $56.963 million in cap allocation is just above the cap floor of $54 million. Cutting their cap space by a third for a player that might never release himself of his concussion symptoms makes little to no sense.
What About Cap Relief?
That burns the last option of teams who are looking to take on salaries to take them up to the floor. But then there's the also the option of using Grabovski's contract as cap relief.
Now, this solution is based entirely on the possibility that the New York Islanders place Grabovski on Long Term Injury Reserve (LTIR). Something the team has yet to do. Putting Grabo on LTIR would give the Isles cap relief should they go over the cap trying to bring another player up or in.
More from Editorials
The same relief would apply to any team already over the cap ceiling. Teams like Detroit (-$4.23 million), Pittsburgh (-$3.18 million), and Toronto (-$825,000), according to Cap Friendly.
Toronto's Joffrey Lupul is having a similar start to his year as Grabovski is having. Meaning that Lupul will likely himself be moved to LTIR once the season starts, removing Toronto from the equation.
Leaving the defending Stanley Cup Champions and the Red Wings as potential spots for Grabovski.
What's the Return?
Draft picks. That's what it's going to come down to in terms of a return for the Islanders. Our current crop of talented youngsters like Barzal, Ho-Sang, Beauvillier, Pulock and Pelech are all pushing for NHL roster spots. Meaning that come a few years from now the prospect pool may look very bare.
Taking Grabovski's contract and flipping it for a first or a few second rounders in 2017, in return for helping Detroit or Pittsburgh meet the league mandated cap ceiling seems like fair compensation.
Swapping players wouldn't work. The reason both teams are in this predicament is because they have a number of players they want to keep and their cost is above the allowable limit.
It feels odd to want to take advantage of another person's medical condition. In an ideal world, Grabovski would be perfectly healthy and he could stay here. But business is business, and the team has to leverage every advantage it has in order to better its chance of success.
Next: Isles Top 25 Under 25: Parker Wotherspoon
Grabovski's status present a chance for the Islanders to stock the cupboard in the years to come while simultaneously bettering their cap allocation position. As long as Grabovski is placed on LTIR this win-win deal with Detroit or Pittsburgh works. But without LTIR forget about it.