New York Islanders: Do We Care Too Much?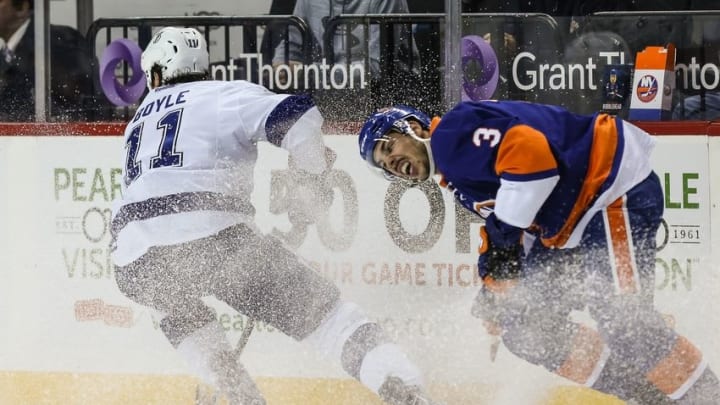 Nov 14, 2016; Brooklyn, NY, USA; New York Islanders defenseman Travis Hamonic (3) reacts as Tampa Bay Lightning center Brian Boyle (11) changes direction during the first period at Barclays Center. Mandatory Credit: Vincent Carchietta-USA TODAY Sports /
The New York Islanders are rolling steadily downhill and it's become exhausting sticking with a team seemingly unwilling to help itself.
Since the New York Islanders' first game against the Tampa Bay Lightning this season, it's been a rough few weeks. There's been very little positives to take from games. Jack Capuano is on everyone's hot-seat – except for the one that counts.
There's real anger, disappointment, and frustration. There have been pitchforks and fires and I, for one, have been waiting for the point where we take a cue from Toronto and start tossing jerseys onto the ice.
If there's an idea about what's going wrong or whose fault it is, it's been written. There's a split in the blame game between management and talent and while I have my own ideas about that, I'm not sharing them here.
Though really, go read Dan Saraceni's piece from earlier this week because he's said a lot of what I just haven't been able to articulate.
The Losses Hurt
Folks, I'm tired. I've read a lot on social media and tired seems to be the general feeling regarding this team. There's definitely a notion that a lot of us care way too much about this team and there's truth to it.
The losses hurt. The way these guys are going out there and losing is maddening. But what makes it worse is all of the outside commentary from Nikita Kucherov's desire to play our team every night to the overall 'mess' the rest of the league sees when they even consider us.
Running the Gamut of Emotion
I've run the gamut of emotions on this team. I have left too many games early. I can't get a refund for the money I've invested in them. If I did my job the way this team on a whole is doing theirs, I have news for you, I wouldn't have one.
Do I really want to schlep the hour and a half to Brooklyn and the hour and a half back to see carnage (setting my expectations high for Friday's game against the Penguins)?
I have turned my back a dozen times in two weeks. I've thrown my arms in the air and said, "no more!" twice that. I've given up on all my game-day superstitions (because you know it matters what I do on game days). I have shouted claims of buying no more merchandise until this problem is fixed (aka Jack Capuano and the entire staff is unemployed and these young boys get to stop being afraid to mess up).
The desperation behind all of this is real. It's exhausting to care so much about something you have no control over. Maybe it would be relieving to put it away or leave it behind and stop for a while.
Next: New York Islanders Winners and Losers
And then the team does this. Josh Bailey does this. John Tavares is doing this and Johnny Boychuk is doing this. There are puppies and causes and the exposed heart of this team. Rediscovered. I'm reminded that while I don't know any of these people, the way they care is a tremendous part of why I do.
And I'll show up. It isn't masochism (most of the time). It's just Islanders hockey.