New York Islanders: What Expansion Means for the Isles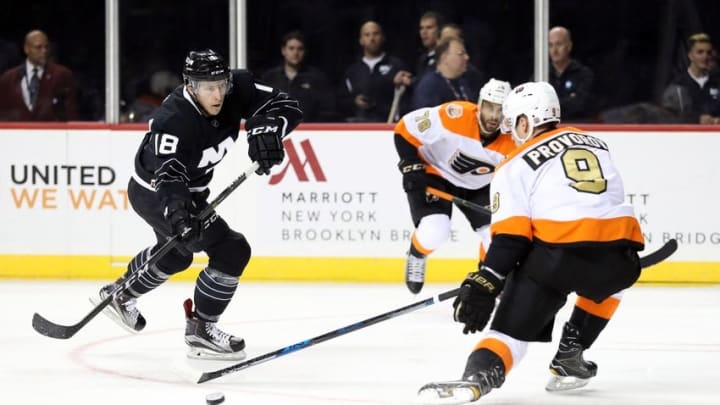 Nov 3, 2016; Brooklyn, NY, USA; New York Islanders right wing Ryan Strome (18) sends the puck past Philadelphia Flyers defenseman Ivan Provorov (9) during the second period at Barclays Center. Mandatory Credit: Anthony Gruppuso-USA TODAY Sports /
One of the big topics in the NHL this season is expansion. The expansion draft for the Vegas franchise will be this June. The Vegas Golden Knights will hit the ice for their inaugural season next October in 2017. What does expansion mean for the New York Islanders?
The Rules & Protection
The New York Islanders like all NHL teams have a choice when it comes to protecting its players for the expansion draft. They can either protect seven forwards, three defensemen, one goalie or protect eight skaters and one netminder.
Because of the Islanders depth on the blue line, they have to choose eight skaters and one goalie. Garth Snow must protect four defensemen, therefore, go the eight skaters route.
Johnny Boychuk (no-move clause), Nick Leddy, Travis Hamonic, and Ryan Pulock will be protected. Captain John Tavares and Andrew Ladd also have no-move clauses and must be protected as well.
That leaves just two spots for the rest of the skaters on the Islanders who do not have a non-exempt expansion clause.
Brock Nelson has to be protected. Granted his play is inconsistent but given his age (25) and the fact he will probably hit at least 20 goals for the third straight season makes protecting him a must.
Now the Islanders will have to choose between Ryan Strome, Anders Lee, Casey Cizikas, and Calvin de Haan. If Garth Snow does not protect Strome that would be a damning statement and probably means, the former fifth overall pick had a second straight poor season.
George McPhee
What makes the Islanders expansion pick so interesting is Las Vegas's first ever general manager George McPhee spent the last two years as a special advisor in the Isles front office.
If Strome was left unprotected because of another poor season, one would think this would be the selection for Las Vegas. Strome does have skills and a change of scenery might be the antidote for the 23-year old center.
If Strome is protected it's an interesting choice for McPhee. Good forwards will be at a premium in the expansion draft. Anders Lee is 26 and has scored 40 goals the last two years entering this season. However, Lee only had one goal so far this season before the game the other night in LA.
Casey Cizikas would be a terrific third-line center for McPhee and Las Vegas. He never stops working and can help out a hockey club in many ways. Cizikas is 25 years of age and is signed for the next four years with an annual cap hit of $3.35 million.
Due to the structure of this expansion draft, McPhee will have many good choices on defense. One would think he would choose a forward from the Islanders rather than a defenseman. Having said that McPhee will be working the phones hard this June regarding trades. It would not be shocking to see Vegas select de Haan and then flip him for a package of player(s) and a draft pick.
A sleeper selection for Vegas regarding the Islanders would be Adam Pelech. When George McPhee was on the Vegas Hockey Podcast (I co-host) over the summer he mentioned he liked Pelech. He also mentioned he liked Pulock.
Next: Where Do The Isles Go From Here
The bottom line is the Islanders because of their depth in the organization will lose a good player to Las Vegas in expansion. I know Islander fans the hits keep coming.