New York Islanders 2018 NHL Draft Lottery Odds Update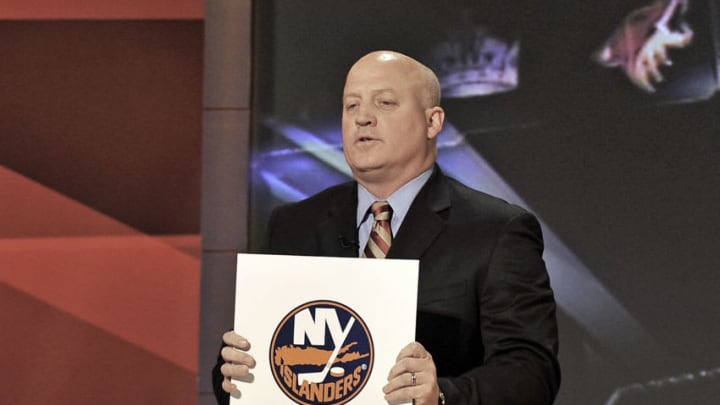 TORONTO - APRIL 7: NHL Deputy Commissioner Bill Daly holds up a NHL Draft lottery card April 7, 2008 at the TSN Studios in Toronto, Ontario, Canada. (Photo by Graig Abel/Getty Images for the NHL) /
Going into the 2018 NHL Draft Lottery the New York Islanders have two shots at getting a top three pick in the draft. And their odds are getting better.
There isn't any chance that the New York Islanders make the playoffs this season. Well, I shouldn't say that. They're only 12 points back of the New Jersey Devils with ten games to play. That's a potential for 20 points.
So as long as the New Jersey Devils don't pick up eight points and the Islanders win 60% of their games, they could make the playoffs. Wait. I forgot to mention the Florida Panthers who have seven points and three games in hand on the Isles. Yup. We're toast.
So all we have to look forward to at this point is the NHL draft lottery.
Thankfully, the New York Islanders have two lottery-bound first round picks. Their own and Calgary's pick they got in the Travis Hamonic trade.
Odds On Two Picks
With a 1-7-4 record over their last twelve the New York Islanders have plummetted in the standings. Even the New York Rangers, who officially announced their intentions to "end" the season back in February are ahead of the Islanders. Ranking them ninth in the lottery standings.
That means the New York Islanders own first-round pick has a 5.4% chance of being picked for the first overall selection. Sounds low, but remember that the Philadelphia Flyers picked second overall and had a 2.2% chance of picking first.
Like Kevin Garnett said, anything is possible. And that's for the Islanders own pick. They still have the Calgary Flames first-round pick.
The Flames have been better of late, going  5-6-1 over their last 12 games. But the Flames are still out of a playoff spot by four points. They still have a reasonable chance of making the post-season, but they aren't yet. So that means they get a chance at the draft lottery.
Three teams have better point totals than the Flames, giving them a 2.7% chance at the first overall pick. Again, Philadelphia had a 2.2% last season.
Next: Top 10 Centers In Isles History
If things keep going the way they are, where both teams keep losing, the odds can get even better. They have a chance of catching both Chicago and Edmonton if they lose enough. That could get the Islanders to within a 6.7% chance of Rasmus Dahlin.