New York Islanders Should Trade Both First Round Picks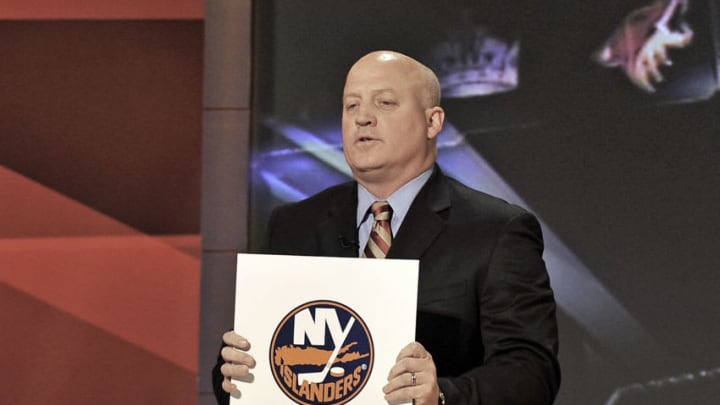 TORONTO - APRIL 7: NHL Deputy Commissioner Bill Daly holds up a NHL Draft lottery card April 7, 2008 at the TSN Studios in Toronto, Ontario, Canada. (Photo by Graig Abel/Getty Images for the NHL) /
The New York Islanders have the 11th and 12th pick in the NHL Draft this year, and they shouldn't use either one of those picks on a prospect.
Last night was the NHL Draft lottery and the New York Islanders had a rough go of it. They were awarded the 11th and 12th pick in this year's draft, which means they aren't drafting someone who makes an immediate impact in 2018-2019.
After missing out on the playoffs for the second year in a row, the Islanders need big changes. Especially if they're trying to retain John Tavares long-term.
In order to both impress Tavares, and make your team ready to be a contender in 2018 instead of years down the line, the Islanders should trade both of their first-round picks in this year's draft.
If the Islanders were picking in the top-three it would be a completely different story. Since they were fairly mediocre but not bad enough to tank, they're stuck with two lottery picks outside the top-10.
That's exactly where you don't want to be. It means you were bad enough to miss the playoffs but not bad enough to get a pick that'll impact your roster right away. Their biggest needs are in net and on the blue line and the Islanders should use both picks to address both needs.
Trade 1: Islander fix goalie and add solid & cheap fourth liner
In this scenario, the Islanders get the help they need in net. The 27-year-old goalie had a career year. In 29 games he had a .920 save percentage and a 2.52 goals against average. The best part about Kuemper is his contract.
He's under contract for two more years at $1.85 million. With a career save percentage of .912 and a goals against average of 2.58 he has comparable career numbers to Thomas Greiss (.912/2.68)  and Jaroslav Halak (.916/2.50) while being significantly cheaper.
He's also five years younger than both Halak and Greiss which means that if he pans out as a starter it's not so much of a band-aid fix, but instead a possible long-term solution.
Adding Kuemper to the mix will be a better version of the Greiss and Halak duo that we've seen the past couple of years. Kuemper's got some upside, and even though the Coyotes just extended him I don't know many teams who are rebuilding and at the cap floor that turn away, first round picks espcially when Antti Raanta is your starter.
I think that a first for Kuemper straight up is poor value for the Islanders so I threw Jordan Martinook in the mix. Martinook would slot in on the fourth line and be an upgrade over what they were running out last year.
The 25-year-old makes just $1.85 million against the cap next year before becoming a UFA after the season. Martinook will add a young, physical presence with some scoring upside. last year he had just 15 points (6 goals, 9 assists) but the two years prior he put up 25 and 24 with double-digit goals in 2016-2017.
Trade 2: Islanders add top-four d-man
The Islanders desperately need defensive help. They allowed the most goals in the league last year and had a major hole on the second pair. Adding someone like Justin Faulk beefs up the Islanders defensive core.
The 26-year-old is signed for two more years at $4.83 million. Last year he put up 31 points (8 goals, 23 assists) in 76 games. He has a scoring upside though, from 2014-2017 he put up 15 or more goals three years in a row.
He's a very strong possession player as well. He has a 55.7 CF%, which would have led the Islanders last year. I wouldn't think twice about losing a first, a second, Brock Nelson and Mitch Vande Sompel for two years of a relatively cheap Justin Faulk.
Even though it's an in-division trade, and Faulk is their captain the Hurricanes desperately need a rebuild. They haven't made the playoffs in nine years. I don't know many teams who haven't made the playoffs in a decade turn away first and second-round picks.
The Canes lucked out and jumped up to the third pick in the draft, it'd really jump-start their rebuilding process to add two top-50 picks to the mix.
Line combinations, d-pairings and final thoughts
Forwards
Lee – Tavares – Bailey
Ladd – Barzal – Eberle
Bellows – Beauvillier – Ho-Sang
Martinook – Cizikas – Clutterbuck
Defense
Leddy – Pulock
Toews – Faulk
Pelech – Boychuk
Goalies
Kuemper
Greiss
This is definitely an improvement over last year's roster. Before you have to convince John Tavares to stay you add a starting goalie and a top-three defenseman to the mix. That's a really good start for the Islanders.
It's certainly more impactful than drafting someone who we won't see until 2020, which does very little for the Islanders whose window should be open right now.
Garth Snow, or whoever else is making the decisions come June should not use either of the two-picks. Instead, trading them for players that can help you in 2018 should be the move. One can only hope the Islanders front office shares this same logic.