New York Islanders 2018 NHL Draft Expectations and TV Schedule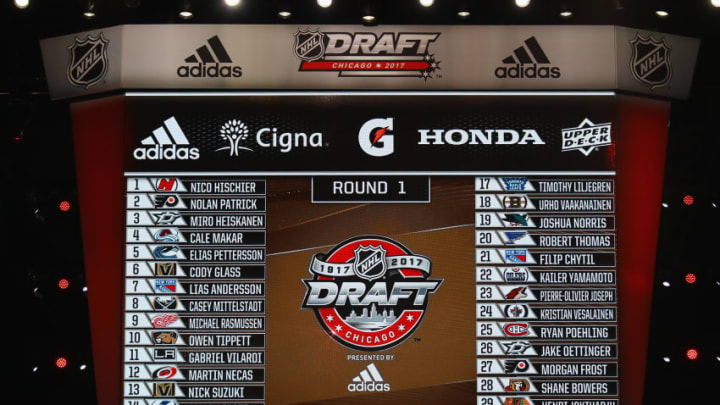 CHICAGO, IL - JUNE 24: A general view of the first round draft picks board during the 2017 NHL Draft at the United Center on June 24, 2017 in Chicago, Illinois. (Photo by Bruce Bennett/Getty Images) /
The 2017-18 season has been building up to this day for the New York Islanders. The 2018 NHL Draft isn't where the Isles will draft a future star, but where they pick up the pieces to build a champion.
OK. That was a bit strong. But after the last few days of increasing positivity with the New York Islanders, all I've got is a Stanley Cup on the brain. It's a stretch, I know, but I'm expecting the best out of this team going forward.
That goes for the 2018 NHL Draft that starting tonight. I expect great things from management.
The Islanders have big needs going into the NHL regulated annual youth recruitment campaign. Those needs will be addressed over the next few days. (PS: I've got my issues with the Entry Draft. Mainly, I don't like it.)
Expectation Number 1
New York Islanders
In the first round of the draft, the New York Islanders will trade one of their two picks to get a defenseman. With 293 goals against last season, getting someone to break the puck out of the zone is a must.
So whether the Islanders chase (and acquire) Matt Dumba from the Minnesota Wild, or Noah Hanifin or Justin Faulk from the Carolina Hurricanes. The Islanders will address the blueline at the draft.
Expectation Number 2
Arguably, the Islanders could get by with the defensive core they currently have. Assuming they keep UFA Calvin de Haan that is.
But in nets, they have a desperate need for a starter. At the moment the Isles goaltending depth chart is Thomas Greiss. That's not good enough to be competitive in the NHL.
Expect Lou to trade a package that includes one of the team's second-round picks for a goalie. Philipp Grubauer out of Washington is the obvious link.
Remember the Martin Jones trade from the Boston Bruins to the San Jose Sharks? The Bruins gave up a first-round pick in 2016 (29th overall) and Sean Kuraly, a 14 point center last season.
At the time Jones' record before going to the Sharks was a 2.25 GAA and a .906SV% with the Kings. Philipp Grubauer is better than that with a 2.35GAA and .923SV% in 35 games in 2017-18.
Sending the Capitals say, Brock Nelson and the 41st pick in round two will certainly get the deal done. That's a few positions lower than what Boston gave up and a better player. For a better goalie, I think that's fair.
Want your voice heard? Join the Eyes On Isles team!
Next: Isles Mock Draft 3.0, With a Trade!
Tune In To The Draft
Round One:
? June 22, 2018
⏰7:30 pm EST
? ?? NBCSN ?? SportsNet, TVAS
Round Two-Seven:
? June 23, 2018
⏰11:00 am EST
? ?? NBCSN ?? SportsNet, TVAS