New York Islanders Podcast: Mathew Barzal For Hart Trophy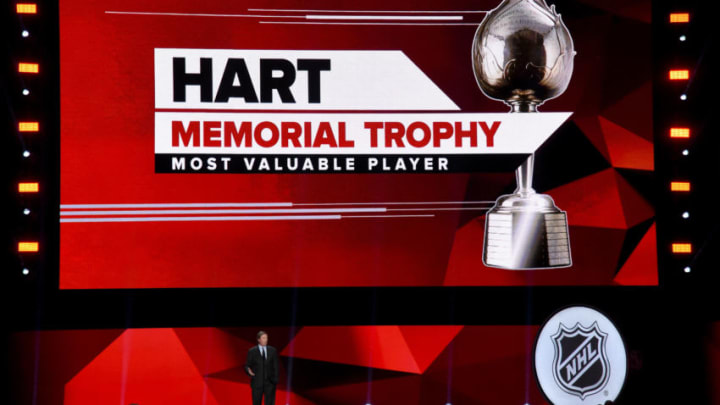 LAS VEGAS, NV - JUNE 21: Wayne Gretzky presents the Hart Memorial Trophy (Most Valuable Player to His Team) during the 2017 NHL Awards and Expansion Draft at T-Mobile Arena on June 21, 2017 in Las Vegas, Nevada. (Photo by Ethan Miller/Getty Images) /
New York Islanders Mathew Barzal has no odds listed on betting sites for the Hart Trophy in 2018-19. Is that a snub?
Could Mathew Barzal win the Hart Trophy this season? It's certainly possible. If the New York Islanders make it to the playoffs in 2018-19 it will be thanks to another monster season from Mathew Barzal.
As in, Taylor Hall levels of monstrous. You know. The guy that single-handedly put the New Jersey Devils into the playoffs and won the Hart Trophy in 2017-18. So why wouldn't Barzal be given odds?
Who knows what the factors are exactly, but it's likely because the oddsmakers have set the odds so low that it's not going to return much if any money for bookies. It could also simply be that the oddsmakers don't think the Islanders will make the playoffs, an unspoken prerequisite to win the league's MVP award.
On the podcast, we bounce around the idea of Barzal for the Hart and we let you in on a friendly wage we made on Barzal's upcoming season.
You can get the podcast on iTunes and
, or wherever you get your podcasts.
What Else Do We Talk About?
Was Lou Lamoriello doing his best "old-man-yells-at-cloud" bit when talking about analytics? Or does he simply think that there's too much out there that it gets in the way of making a proper decision? Should we be worried about Lou and his use (or lack thereof) of analytics?
Former New York Islanders defenseman Bryan Berard is suing the league for not protecting or helping the players when it comes to brain injury. Should the NHL be doing more on concussions? Are they doing enough?
Can Anders Lee score more or less than 34.5 goals in 2018-19? He's scored 74 in the last two seasons, but what does the loss of John Tavares do to the Islanders power forward and his goal-scoring prowess?
What are the biggest questions facing the New York Islanders going into 2018-19? Will structure solve the Isles defensive woes, or was it an issue of personnel? Was the gamble Lou took on Robin Lehner worth it?
Want your voice heard? Join the Eyes On Isles team!
Make sure to subscribe, rate, and review the show. It helps us reach as many New York Islanders fans as possible. And as always, thank you.