New York Islanders Top 5 Options For Right Handed Forwards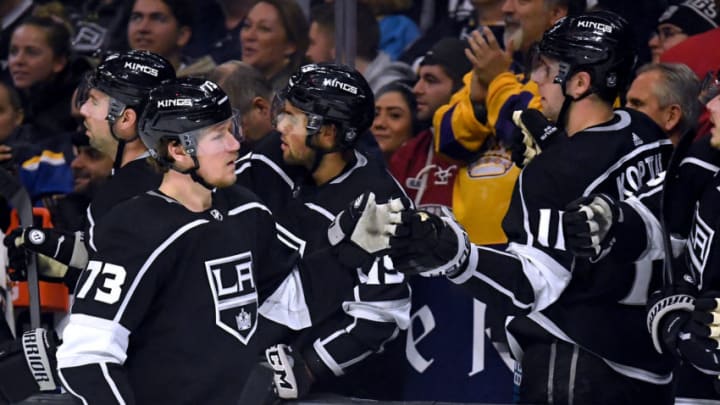 LOS ANGELES, CALIFORNIA - JANUARY 21: Tyler Toffoli #73 of the Los Angeles Kings celebrates his goal with the bench to trail 2-1 to the St. Louis Blues during the first period at Staples Center on January 21, 2019 in Los Angeles, California. (Photo by Harry How/Getty Images) /
With Cal Clutterbuck as the only RW the New York Islanders need a significant upgrade on the right side of the ice. Where can they look to get that help?
Picture the New York Islanders right-wing depth chart. It's probably Jordan Eberle (who's a UFA), Leo Komarov (shots left), and Cal Clutterbuck. Eberle is likely gone in free agency, leaving Cal Clutterbuck as the only right-shot forward that isn't a dedicated center (Barzal shoots right).
And Cal Clutterbuck might not be ready for the start of the season. The hard-hitting winger might need back surgery this off-season.
That leaves Komarov – again, he shoots left – if you assume Eberle isn't re-signed. That's not going to be good enough going forward. Even if the Islanders re-sign Jordan Eberle that's not going to be enough.
I tried to find the five best right-handed forwards the New York Islanders could look to add that are outside of their system.
Options in the System
The Islanders have two right-handed options in their system. But I doubt that they actually use them this season.
Josh Ho-Sang
The Islanders and Josh Ho-Sang haven't seen eye-to-eye since they drafted him 28th overall in 2014. It's hard to believe that the Islanders would bring up Josh Ho-Sang to fill a top-six role today when they weren't willing to do so just a few months ago.
Oliver Wahlstrom
Wahlstrom didn't have a great season with Boston College in 2018-19. But Wahlstrom was able to turn his season around when the NCAA season ended and he joined the Bridgeport Sound Tigers. In ten games (five in the regular season, five in the playoffs) he scored seven points.
I doubt a ten game sample is going to be enough to convince Lou Lamoriello that Oliver Wahlstrom is ready for the NHL. He'll stay in the AHL for 2019-20.
RFA, UFA, Trade Options
That means Lamoriello has to look outside the organization if he's going to get support on the right flank. Here are five right-handed forward options he could pursue and why:
1. Mitch Marner (RFA)
Marner might be willing to test the offer sheet market this offseason. With 94 points last season, the 22-year-old winger is easily the best option for the New York Islanders.
Of course, it's easier said than done. If Marner is testing the offer sheet market the Islanders won't be the only team trying to sway the young playmaker. He won't be a cheap option if they can get him.
Toronto is fine with offering Marner $11 million. Any offer sheet will have to go above that mark, meaning Toronto would get four first round picks in compensation for taking their RFA. Is he worth it to you?
2. Jonathan Marchessault (Over Cap)
The Vegas Golden Knights are $124,999 over the 2019-2020 $83 million salary cap. And they still have four RFAs and four UFAs to potentially re-sign. They'll have to make room. Marchessault and his $5 million AAV could be used to make that room.
He regressed this season with 59 points from the 75 he scored in his first year with the Golden Knights. That 59 points though, would rank him second on the Islanders for scoring.
Any deal with the Golden Knights won't come cheap, it will certainly involve one of the Islanders blue chip prospects. If it means bringing in a possible 70 point player on a reasonable deal, it sounds like a good move to make.
Just to complicate things further, Marchessault has an eight-team no-trade list, the Islanders could certainly be on that list.
3. Tyler Johnson (Cap Issues)
It's possible that the Tampa Bay Lightning look to add unrestricted free agent Erik Karlsson once again this offseason. To do so they'll certainly have to move someone to make room on the cap.
Their $8.5 million in projected cap space is certainly a lot, especially in Tampa, but it's not enough to re-sign Brayden Point and bring in Erik Karlsson. Moving Tyler Johnson's $5 million AAV would clear up a healthy chunk of their cap.
4. Kasperi Kapanen (RFA/Cap issues)
Kasperi Kapanen is young, talented, right-handed, and could be had via offer sheet. I know all the attention is on Mitch Marner, but Toronto will do everything they can to hold on to Marner. Meaning that a player like Kapanen could be had.
He's not the same caliber of player. And as such won't cost much, somewhere around a $3 million to $4 million AAV. In keeping Marner as well as their other high-paid players, the Leafs won't have enough room to match that offer sheet.
At 22-years-old, and scoring 44 points, Kapanen can be a good top-six option for the Islanders. And if all it costs in compensation to the Leafs is a second round pick, it's a smart move to make.
5. Tyler Toffoli (Under Performing Team)
After a 31 goal and 58 point season in 2015-16, things have slowed down for Tyler Toffoli. In the three preceding seasons, he scored 34, 47, and again 34 points for the Los Angeles Kings.
With a year left on his deal, the Kings could move him to bring in some young talented players. Something the Islanders have in abundance.
Perhaps a change of scenery is all Toffoli needs to return to that 58 point pace from a few years ago.