New York Islanders 2019 NHL Draft Class Review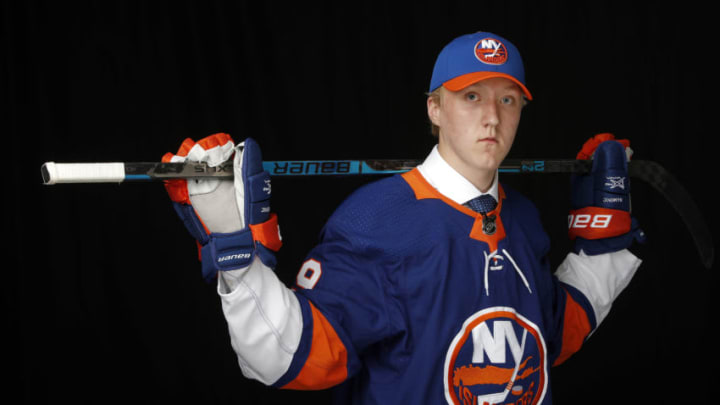 Simon Holmstrom poses for a portrait after being selected twenty-third overall by the New York Islanders during the first round of the 2019 NHL Draft at Rogers Arena on June 21, 2019 in Vancouver, Canada. (Photo by Kevin Light/Getty Images) /
This weekend the New York Islanders made a surprise at the NHL Draft by taking Simon Holstrom at 23. Here's how the rest of the class shaped out.
The NHL Draft is always an intriguing time in the NHL. There are prospects flying around, trades, and tons of surprises. While the New York Islanders may have surprised some people in round one it was a rather boring weekend for the Islanders.
They didn't make any big trades, while teams in the Metropolitan Divison improved. They went in, quietly made their picks, and came out in a nearly identical situation they started with.
Here's a look at the 2019 Draft Class:
Simon Holstrom
Taking Holstrom at 23rd overall came as a bit of a surprise. Many pegged Holstrom as a second rounder and he ranked between the 16th best prospect (McKeen's Hockey) to the 46th best prospect (The Athletic).
Holstrom is a Sweedish Right Winger who is known as a goal scorer. At six-foot-one and 183 pounds, he's a bigger body who can play a two-way game. He's a lefty too even though he plays on the right side.
This is more of a developmental pick, which is fine because the Islanders don't have a pressing need for young talent right now with their strong farm system. This was a surprise pick with guys like Nick Suzuki, Phil Tomasino, and Connor McMichael on the board (all centers).
Samuel Bolduc
Bolduc is another pick that seemed like a reach. They took him 57th overall but most rated him as a third round talent. He's a lefty defenseman, with some size at six-foot-four and 209 pounds.
Lou Lamoriello compared him to Scott Mayfield, which is solid because the Islanders left handed d-men are all smalled in size at the NHL level and in the prospect pool.
In 65 games in the QMJHL, Bolduc had 37 points (9 goals, 28 assists). He'll play a couple of years in the Q before we see him at the AHL.
Reece Newkirk
Hey, a center! Without a pick in rounds three or four the Islanders land a center in round number five. Newkirk played with the Portland Winterhawks and was a teammate of Kieffer Bellows in 2017-2018.
Newkirk was much improved this past year putting up 59 points (23 goals, 36 assists) in 68 games. He might take some time to develop but this is a worthy swing on a fifth-round center. I just wished the Islanders addressed that position earlier instead of counting on mid round picks to fill out that positional depth.
Felix Bibeau
Bibeau is already 20 years old, so he's an older round six swing. He plays center in the QMJHL and puts up a ton of points. Last year with the Rouyn-Noranda Huskies he had 69 points (28 goals, 41 assists).
This is a sixth-round swing that I can get behind. He's changing teams in the QMJHL next year but perhaps we see him in the Islanders system sooner rather than later due to his age.
Cole Coskey
Another 20-year-old prospect here. It's an offensive swing from Lou Lamoriello though. In 52 games the right winger had 63 points (31 goals, 32 assists) in the OHL.  It's hard to have expectations on a seventh rounder but not a bad attempt to load up on scorers.
The Grade: C+
Overall, Lou Lamoriello missed the boat to address a big need of center early in this draft. His first two picks seemed to be over drafted and the with some interesting swings in the late rounds of this draft.