New York Islanders Trading For Tyler Toffoli Would Be A Good Move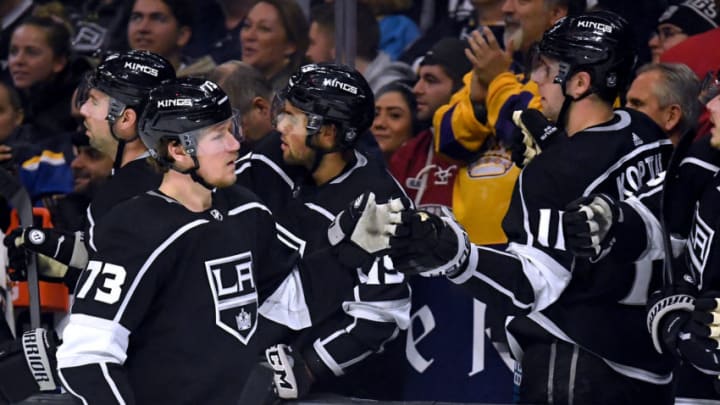 LOS ANGELES, CALIFORNIA - JANUARY 21: Tyler Toffoli #73 of the Los Angeles Kings celebrates his goal with the bench to trail 2-1 to the St. Louis Blues during the first period at Staples Center on January 21, 2019 in Los Angeles, California. (Photo by Harry How/Getty Images) /
Why haven't the Los Angeles Kings traded Tyler Toffoli just yet? Toffoli seems like the exact type of target New York Islanders GM Lou Lamoriello would be after.
The New York Islanders tried to add to their roster through free agency and failed. Now they (as in GM Lou Lamoriello) has to start working the phones to bring in a player through trade.
Ideally, Lou would be trying to make a big splash by getting a big name like Mitch Marner. A big blockbuster trade that sets the hockey world a buzz. Not only is it a big trade with a bunch of pieces to it, but it's a big statement trade.
The Islanders can attract big names, Lou isn't shy to use the trade market, and they will be a force next season. But that just doesn't seem like Lou's style.
Lou wants to maximize his return by giving little and getting a lot. That means trading for a player on an expiring deal who had an underproductive year that he can get at well below market price. Like
.
Trading for Toffoli Is a Lou Type of Move
Toffoli had a poor year with the Los Angeles Kings last season. In 82 games he scored 13 goals and 34 points for 0.415 points-per-game. That's the lowest production (on a per-game basis) in his six-year NHL career.
From 2013 through 2018 Toffoli scored or was on pace for 21 or more goals. In 2015-16 he scored 31 goals and 58 points. Toffoli is a good player at the NHL level. And he probably won't take much to get.
Toffoli is in the last year of his contract before reaching unrestricted free agency. And just this March he told the LA Times how he wanted to continue being a part of the Kings organization:
""I don't have any expectations. I want to stay here and that's what my goal is. I have the rest of the season to kind of prove myself and prove that I want to be here.""
But with the team trying to rebuild after falling almost to the bottom of the NHL with 71 points last season, it's hard for GM Rob Blake to justify bringing a 27-year-old Toffoli back rather than trade him in for picks and prospects.
The New York Islanders have both.
Just last season, Jeff Skinner was traded from the Carolina Hurricanes with a year left on his deal to the Buffalo Sabers for Cliff Pu, a third-round pick and two sixth-round picks (one in 2019 and another in 2020).
If that's what it takes to get Jeff Skinner, a player who exceed 40 points six times and 60 points twice, how little will it take to get Tyler Toffoli?
We're probably talking about a lower-tier prospect and a mid-level pick. Things the New York Islanders can easily part ways with at this juncture of the Lou Lamoriello era. It's a low-risk high reward type of situation for the Islanders. Exactly the type of moves Lou is all about these days.
Want your voice heard? Join the Eyes On Isles team!
Looking at bounce-back candidates who are on expiring deals list, Tyler Toffoli is the most attractive option for the Islanders. Surrounded by a better system, with better players, in a winning culture could be exactly what Tyler Toffoli needs to get back to where he was just a few years ago.