Islanders mid-season awards: Brock Nelson is the MVP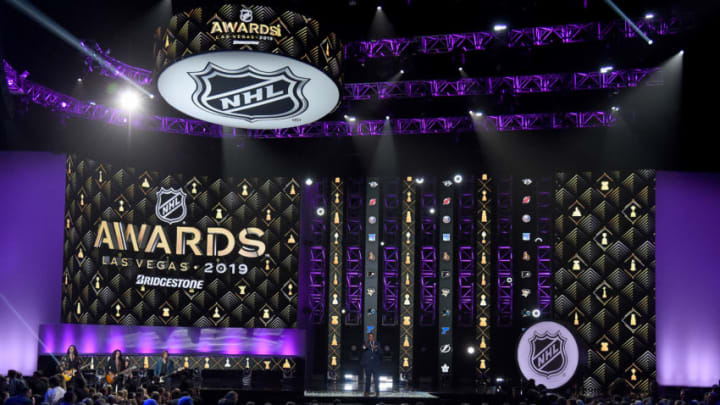 LAS VEGAS, NEVADA - JUNE 19: Host Kenan Thompson speaks at the end of the 2019 NHL Awards at the Mandalay Bay Events Center on June 19, 2019 in Las Vegas, Nevada. (Photo by Ethan Miller/Getty Images) /
LAS VEGAS, NEVADA – JUNE 16: (EDITORS NOTE: This image was shot with a fisheye lens.) NHL trophies and awards are displayed at MGM Grand Hotel & Casino in advance of the 2019 NHL Awards on June 16, 2019 in Las Vegas. Nevada. The 2019 NHL Awards will be held on June 19 at the Mandalay Bay Events Center in Las Vegas. (Photo by Ethan Miller/Getty Images) /
Fifty games in the books! Based on those 50 games, what New York Islanders players deserve an award?
It's not exactly mid-season, but with the All-Star break and the league-mandated week-long break taking place, it's the perfect time to take stock of what's going on so far this season for the New York Islanders on an individual basis.
And what better way to do that than by dolling out awards for half a season's worth of performance!
I'm only giving out subjective awards. None of those points leaders awards like the Art Ross or Maurice Richard Trophy. Those trophies aren't subjective. We know who has the most points (Mathew Barzal) or the most goals (Brock Nelson), just look at the team's stats page.
I'm also not about to give out awards with only one possible winner, like GM of the Year or the Jack Adams trophy. Cause again, that's too easy we only have one GM and we only have one head coach.
So I'm only going to give out subjective awards.
Hart Trophy – Team MVP
Vezina Trophy – Best Goalie
Norris Trophy – Best Defenseman
Selke Trophy – Best Defensive-Forward
Calder Trophy – Best Rookie
Awards where there's a bit of thought that needs to be put into deciding who gets the awards and who doesn't.