Islanders mid-season awards: Brock Nelson is the MVP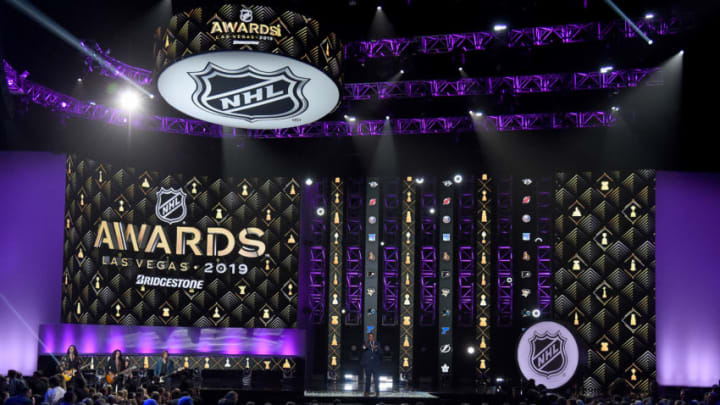 LAS VEGAS, NEVADA - JUNE 19: Host Kenan Thompson speaks at the end of the 2019 NHL Awards at the Mandalay Bay Events Center on June 19, 2019 in Las Vegas, Nevada. (Photo by Ethan Miller/Getty Images) /
LAS VEGAS, NV – JUNE 21: Wayne Gretzky presents the Hart Memorial Trophy (Most Valuable Player to His Team) during the 2017 NHL Awards and Expansion Draft at T-Mobile Arena on June 21, 2017 in Las Vegas, Nevada. (Photo by Ethan Miller/Getty Images) /
Hart (MVP) – Brock Nelson
I know it. You know. Barry Trotz knew it years ago. Brock Nelson is the most valuable player on this team. Barzal might the best player, Cizikas might be the heart and soul of the team, but Brock Nelson is the most valuable.
Barry uses him in every single situation. He ranks third in 5on5 ice time, fifth in power play time, and second on the penalty kill. He's never at the top of any of those rankings, but he's near the top on all.
Its that reliance to use him across all situations that make him so valuable to this team. No matter the score, no matter the situation, Barry Trotz trusts Brock Nelson to do a job defensively and offensively.
After 50 games,  Brock has 21 goals – the fastest he's ever hit 20 – and has 19 helpers for 340points. That's a pace of 66 points. His previous career-high, set last season, was 53 points.
Not only has Brock done the job offensively for the Isles but he's done so defensively. He's at the heart of everything the New York Islanders do on and away from the puck.
Look, it's clear that Barzal is the Islanders best player. His skill set is virtually unmatched in the NHL. But when it comes to the most important player for this team it's clear that player is Brock Nelson.
Now get in a time machine, head back to 2018 and tell your past-self that and wait for them to laugh at you. Or just think what could have been if Jack Capuano or Doug Weight knew how much untapped potential Brock Nelson had.