Islanders mid-season awards: Brock Nelson is the MVP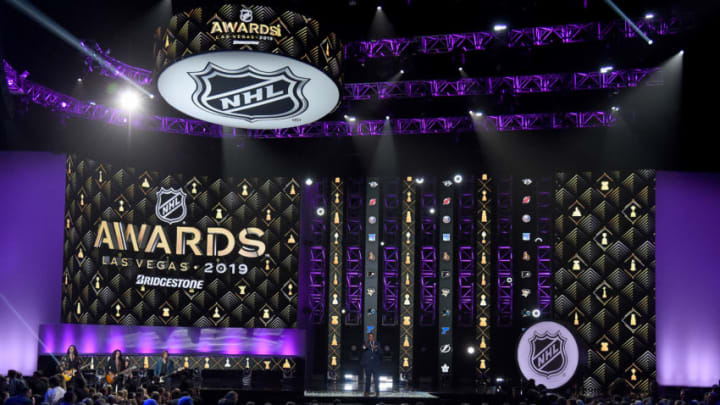 LAS VEGAS, NEVADA - JUNE 19: Host Kenan Thompson speaks at the end of the 2019 NHL Awards at the Mandalay Bay Events Center on June 19, 2019 in Las Vegas, Nevada. (Photo by Ethan Miller/Getty Images) /
LAS VEGAS, NV – JUNE 20: Actor Jim Belushi (L) and accountant Scott Foster, who appeared in one game for the Chicago Blackhawks in March as an emergency backup goaltender, present the Vezina Trophy onstage at the 2018 NHL Awards presented by Hulu at The Joint inside the Hard Rock Hotel & Casino on June 20, 2018 in Las Vegas, Nevada. (Photo by Ethan Miller/Getty Images) /
Vezina (Best Goalie) – Thomas Greiss
Both goalies have had their ups and downs this season. Which is the entire benefit of running a duo instead of running everything through a single starter like most NHL teams do.
But of the two goalies on the Islanders roster, Thomas Greiss is having, so far, the better year.
In 22 starts, Greiss has 14 wins while averaging a 2.50GAA and a 0.922SV%. In 27 starts, Semyon Varlamov has 15 wins and is averaging a 2.59GAA and a 0.915SV%, with two shutouts. Both goalies are playing well, Greiss is just the better of the two.
Again, Greiss hasn't always been perfect. From December 17 to January 7, Greiss averaged 3.5 goals against per game and a save percentage of 0.806. And he sat for it. His next outing was a 9:45 cameo in relief of Varlamov against the Rangers on January 13 a week after his last start.
Varlamov got a run with the crease and Greiss had to sit and watch. A move that certainly pushed him and got him back to the level we've come to expect.
Again, Greiss has easily been the better of the two shot-stoppers on the Islanders roster. Varlamov is stopping fewer pucks than Greiss and only has one more win even though he has five more starts than Greiss.