Islanders mid-season awards: Brock Nelson is the MVP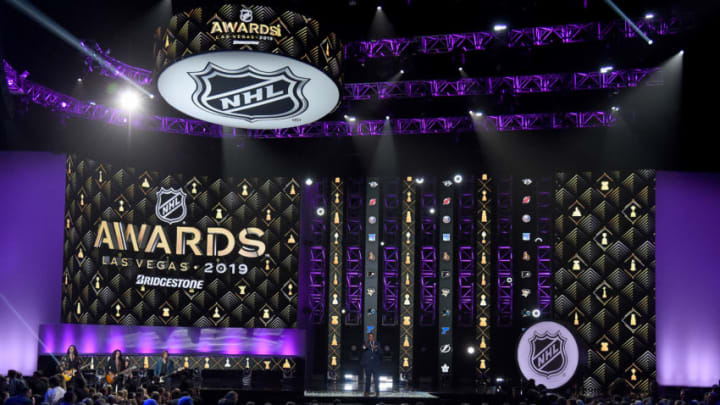 LAS VEGAS, NEVADA - JUNE 19: Host Kenan Thompson speaks at the end of the 2019 NHL Awards at the Mandalay Bay Events Center on June 19, 2019 in Las Vegas, Nevada. (Photo by Ethan Miller/Getty Images) /
LAS VEGAS, NEVADA – JUNE 16: The James Norris Memorial Trophy is displayed at MGM Grand Hotel & Casino in advance of the 2019 NHL Awards on June 16, 2019 in Las Vegas. Nevada. The 2019 NHL Awards will be held on June 19 at the Mandalay Bay Events Center in Las Vegas. (Photo by Ethan Miller/Getty Images) /
Norris (Best Defenseman) – Adam Pelech
I thought that was apt. Who knew that Adam Pelech would be so important to this team?
Obviously Lou Lamoriello and Barry Trotz did. And to an extent so did Garth Snow. The former GM protected Adam Pelech in the Vegas expansion draft just a few years ago. A move that was met with some significant criticism.
Since the expansion draft, Adam Pelech has transformed into the Islanders best defender. Helping them become one of the top-two defensive teams in the league over the last two seasons. And now that he's gone, the Islanders have had to adjust. And it isn't going particularly well.
Just look at the penalty kill. Shot maps, brought up by our own Nick Jehamy, show the impact that Adam Pelech's injury has had on shot volumes when the Isles are a man down. Spoiler, it isn't good.
Without Adam Pelech in the lineup, the Islanders have gone 4-5-3 and have given up an uncomfortable 2.92 goals against.
Ryan Pulock has had to step up and become the team's number one defense-first blueline. A role he isn't accustomed to playing, while Isles vet Nick Leddy gets to be the lead offense-first defender. It's all taking some getting used to on the Islanders blueline.
Adam Pelech isn't going to score at Erik Karlsson levels but he is the Islanders most important defender. And for a team who's identity and who's entire structure is predicated on solid defending, Adam Pelech gets the nod for the Norris.