Islanders mid-season awards: Brock Nelson is the MVP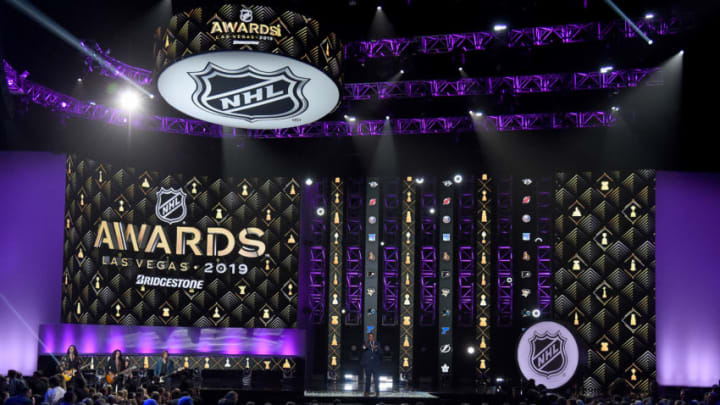 LAS VEGAS, NEVADA - JUNE 19: Host Kenan Thompson speaks at the end of the 2019 NHL Awards at the Mandalay Bay Events Center on June 19, 2019 in Las Vegas, Nevada. (Photo by Ethan Miller/Getty Images) /
LAS VEGAS, NEVADA – JUNE 16: The Frank J. Selke Trophy is displayed at MGM Grand Hotel & Casino in advance of the 2019 NHL Awards on June 16, 2019 in Las Vegas. Nevada. The 2019 NHL Awards will be held on June 19 at the Mandalay Bay Events Center in Las Vegas. (Photo by Ethan Miller/Getty Images) /
Selke (Best defensive forward) – Casey Cizikas
There shouldn't be much of a debate here. Casey Cizikas is clearly the Islanders best defensive forward. Brock Nelson isn't far away in second place on this ballot.
Only two forwards – Matt Martin and Leo Komarov – have started more of their shifts in the defensive zone than Casey Cizikas and his 61.3 percent defensive zone starts. But Casey has nearly as much production as both combined. With ten goals and four assists, Cizikas has two fewer than Komarov's ten points and Martin's six.
Of course, it's not just about the amount of offense these players generate, thought that's about half of what goes into deciding the best defensive forward.
For forwards Casey Cizikas holds the second-best xGF%, the fourth-best CF%, the third-best HDCF%, and the second-best SCF%. He's also second only to Derick Brassard when it comes to faceoff win percentage with a 54.1 win percentage.
That last stat is important. Remember, Cizikas stats more than 60 percent of his shifts in the defensive zone. And he wins, on average more than half of his faceoffs. Being able to gain possession in the defensive zone right off the faceoff is a critical asset to have.
It's incredible to watch Cizikas turn a defensive situation into an offensive one for the Islanders. There are few players in the league who can do what Cizikas does. There are certainly none on the Isles outside of Cizikas.
This award was made for him. Sorry, Brock Nelson.