Islanders: Quality is hard to find in third round of draft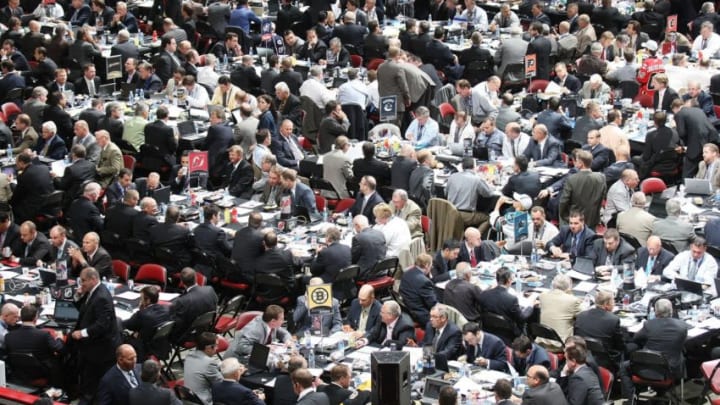 MONTREAL, QC - JUNE 27: An overview of the draft floor photographed during the 2009 NHL Entry Draft at the Bell Centre on June 27, 2009 in Montreal, Quebec, Canada. (Photo by Bruce Bennett/Getty Images) /
The New York Islanders first pick at the 2020 draft will come in the third round. Who's an impact played they've selected in the third round since 1996?
With the trade for Jean-Gabriel Pageau from the Ottawa Senators, the New York Islanders won't be making a pick at the 2020 NHL Draft until the third round.
Sending a first* and second in 2020 (as well as a conditional third in 2022) was a heavy price, but with Mathew Barzal, Brock Nelson, Pageau, and Casey Cizikas down the middle, the Islanders have a stellar spine to go forward with.
(*That first is top-three protected.)
There are no guaranteed stars in the third round, but there are still serviceable players that can be found in the third round of the draft. Looking back over 20 years of picks between 1996 and 2016, the Isles have been able to find some quality in the third round.
Finding Quality
When I say "some quality" I'm really talking about three players in specific; Zdeno Chara (1996), Frans Nielsen (2002) and Adam Pelech (2012). Since 1996, the Islanders missed way more frequently than they hit with third-round picks.
To be fair there are a few years where the Isles didn't make a pick in the third round:
But they still made 23 third-round selections between 1996 and 2016. Only eight have played a single NHL game (whether that's with the Islanders or not).
With that being said, the players that did 'hit' have been pretty darn impactful at the NHL level. Chara has 1,553 career NHL games (15th most in NHL history), he's a Stanley Cup champion, and is a lock for the Hall of Fame. Too bad most of that wasn't with the Islanders.
To be fair, in 1996 there were 26 picks per round instead of the 31 (soon to be 32) in today's draft. As the 56th overall pick in 1996, Chara would be a second-round pick today.
Frans Nielsen was a great second-line center for the Isles. He scored 349 points in 606 games, 13 game-winning goals, and was a great penalty killer. He's not going to be a Hall of Fame player like Chara, but for a third-round pick, Nielsen was a great find.
In 2012, the Islanders took Adam Pelech in the third-round with the 65th pick. It took him a few years to make the NHL, as it does with most defensemen, but now that he's here, he's been incredibly impactful as a top-pair defenseman for the Isles.
NHL Wide
Just in case you thought that the Isles were the only team to miss on third-round picks, just know that there are few surefire 'hits' in the third round. Over that same 20 year period from 1996 to 2016 there were few finds in the third round.
Finding an impact player in the third round isn't impossible but it isn't common either.
On average between 1996 and 2016, 14 players in the third-round have played at least one NHL game, while half of those players have gone on to play at least a full season in the NHL.
While there aren't many above-average players in the third, there are certainly good everyday players that can be pulled out of the third round, but even then they're few and far between.
Want your voice heard? Join the Eyes On Isles team!
The Islanders could still find a good player out of the 2020 draft with their third-round pick. But it isn't a promising proposition.