Islanders: Best and worst draft classes of the 2000s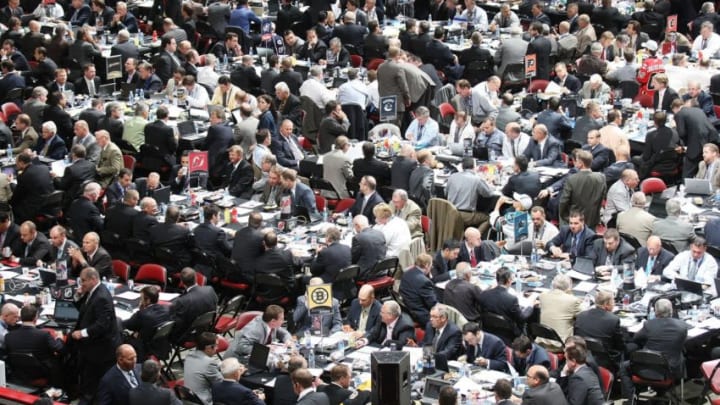 MONTREAL, QC - JUNE 27: An overview of the draft floor photographed during the 2009 NHL Entry Draft at the Bell Centre on June 27, 2009 in Montreal, Quebec, Canada. (Photo by Bruce Bennett/Getty Images) /
2001: Not Much to Work With
Total games played: 0
Player with the biggest impact: N/A
The Islanders didn't have their first, second, or third-round pick in the 2001 draft. That first-round pick went to Ottawa in the Alexei Yashin trade, the second went to Tampa in the Steve Martins trade, and the third-round pick was turned into a later third and a fourth-round pick in a trade with the Panthers.
Ottawa famously got Jason Spezza with the Islanders first-round pick. The other two picks never amounted to anything. But losing on a second overall pick who would score 940 points (159 more than Yashin) hurt.
This draft proved that short-term gain isn't always the best course of action.
Not a single player drafted in 2001 registered a single game for the Islanders.
2007: Empty Cupboard
Total games played: 11
Player with the biggest impact: Mark Katic (11 games played)
It's hard to have a good draft when the Islanders don't have a first or second-round pick at their disposal. That first-rounder went to Edmonton for Ryan Smyth. The second-round pick went to the Washington Capitals for Richard Zednik.
But with the Oilers using that first-round pick to draft Alex Plante (10 NHL GP) and with Washington drafting Theo Ruth (0 NHL GP). The Isles didn't lose much here.
The best player out of the draft for the Isles was Mark Katic, who played eleven games in the NHL. All were for the Islanders in 2010-11.
That's all the Islanders got out of the draft.
2005: Swing and a Miss
Total games played: 23
Player with the biggest impact: Dustin Kohn (22 games played)
This was Mike Milbury's last draft as GM of the New York Islanders. With his first-round pick, he selected center Ryan O'Marra. O'Marra would never play a game for the New York Islanders. He was traded for Ryan Smyth in 2007.
O'Marra didn't do much in the NHL with 33 career NHL games played.
The rest of the class is nothing to speak of really. Dustin Kohn (a second-round pick) and Masi Marjamaki (fifth-round pick) combined for 23 NHL games with the Islanders