Islanders: Best and worst draft classes of the 2000s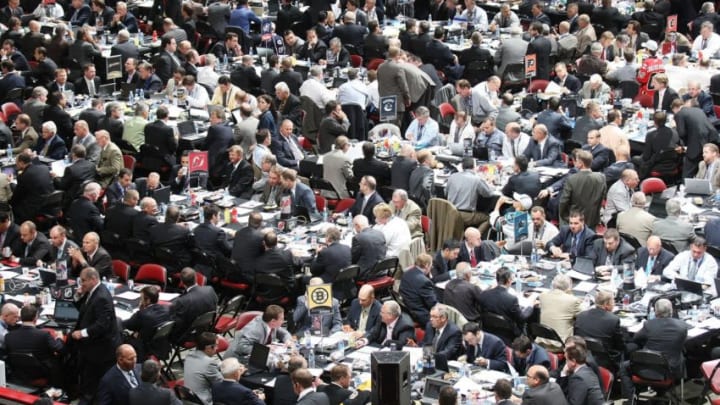 MONTREAL, QC - JUNE 27: An overview of the draft floor photographed during the 2009 NHL Entry Draft at the Bell Centre on June 27, 2009 in Montreal, Quebec, Canada. (Photo by Bruce Bennett/Getty Images) /
UNIONDALE, NY – JANUARY 18: Rick DiPietro #39 of the New York Islanders prepares to play against the New Jersey Devils on January 18, 2010 at Nassau Coliseum in Uniondale, New York. The Isles defeated the Devils 4-0. (Photo by Jim McIsaac/Getty Images) /
2000: If Not For Injuries
Total games played: 375
Player with the biggest impact: Rick DiPietro (318 games played)
I know that Rick DiPietro's legacy with the New York Islanders will always be tainted because of that ridiculously long contract, because Roberto Lungo was traded away, and because injuries shortened his career.
But when he was healthy Rick was an alright starter for the Isles. Between the 03-04 and 07-08 seasons, Rick played 238 of 318 games and went 111-89-5 with an average 2.71 GAA and 0.908SV%. Good enough for tenth in GAA and ninth for SV% amongst goalies who played at least 200 games in that period.
The rest of the draft was 'meh' Raffi Torres's impact with the Isles was short-lived with 31 games played.
If not for Rick DiPietro's injuries this draft class would have certainly proven to be more impactful.
2003: Bruno "Sixth-Round" Gervais
Total games played: 441
Best player drafted: Bruno Gervais (331 games played)
That's not his actual nickname, it's just the one I gave him because the Islanders selected him in the sixth round of the 2003 draft. With 331 games played for the Islanders, Gervais had the largest impact on the team by a considerable margin.
The Isles first-round pick that year was Robert Nilsson. He would be traded to Edmonton along with Ryan O'Marra for Ryan Smyth. Second-round pick Jeremy Colliton (the Chicago Blackhawks current head coach) played the second-most games for the Isles with 57.
2004: Depth in the Seventh
Total games played: 522
Player with the biggest impact: Blake Comeau (216 games played)
Drafted in the second-round (47th overall), Blake Comeau had the largest impact on the Isles based on the number of games played with 261 games. But with a seventh-round pick, the Isles selected Chris Campoli.
The depth centerman had a decent rookie season with nine goals and 34 points. But what he'll best be remembered for is scoring twice in overtime against the Columbus Blue Jackets on November 3, 2008.
2002: Hitting Twice
Total games played: 852
Player with the biggest impact: Frans Nielsen (606 games played)
With their first-round pick, the Isles selected Sean Bergenheim 22nd overall. Bergenheim would play 246 games for the Isles and score 80 points. But there's no doubt that Frans Nielsen, a third-round pick, had the biggest impact for the Islanders.
Over 606 games, Nielsen would score 349 points, he'd play in every situation for the Isles, and be wildly efficient in the shootout. The Neilsen sized gap he left on the roster when he signed with Detroit wasn't filled until Barry Trotz came around two years later and put his faith in Brock Nelson.