Islanders podcast: Is tanking for draft picks acceptable or not?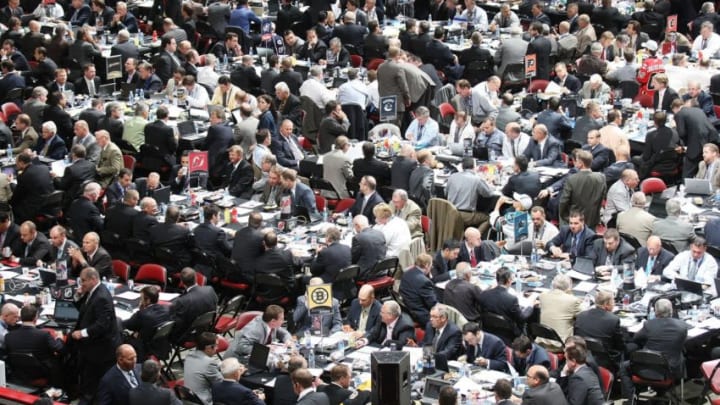 MONTREAL, QC - JUNE 27: An overview of the draft floor photographed during the 2009 NHL Entry Draft at the Bell Centre on June 27, 2009 in Montreal, Quebec, Canada. (Photo by Bruce Bennett/Getty Images) /
In our latest New York Islanders podcast we talked about tanking. Is the practice of losing on purpose poor form or is it perfectly acceptable?
It's not the oldest tradition in sports, but it's certainly a popular one. Just about every team in almost every sport has done it. Including the New York Islanders.
If you're somehow unfamiliar with the practice; tanking is building a team so bad it's guaranteed to lose. The object is to get the top draft pick as compensation for all that loosing.
But the question is, is this an acceptable practice? Tanking for one season, like when the Toronto Maple Leafs gutted their team so they could draft Auston Mattews in 2016, is one thing. It's another when you're the Edmonton Oilers and you get not one, not two, not three, but four first overall picks in six years.
At a certain point tanking can go too far.
So is it OK to tank? And where do you draw the line on what is or isn't acceptable? Is the line at two first overall picks? Or do you draw a line in the sand at institutional incompetence?
You can play the podcast right here from this page. You can also download the podcast wherever you get your podcasts from.
What Else Did We Talk About?
The NHL has narrowed down its options to restart the 2019-20 season, and neither option includes a regular season. How does this impact the New York Islanders who are currently just outside the playoff picture?
Mathew Barzal and Anthony Beauvillier have chemistry on and off the ice. As the Islanders look to find more production from the players they currently have, moving Beauvillier up to Barzal's wing makes sense.
In the quiz segment, I give Matt five guesses to name this goalie that played 43 games for the New York Islanders. Could you name him before Matt?
Want your voice heard? Join the Eyes On Isles team!
You can get the Eyes on Isles podcast wherever podcasts are available such as iTunes, Spotify, or Spreaker.