Islanders: Tom Kuhnhackl proves he's the right man for the job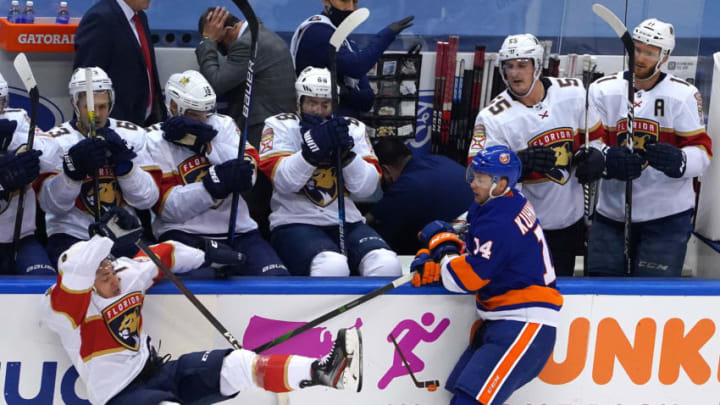 TORONTO, ONTARIO - AUGUST 01: Frank Vatrano #77 of the Florida Panthers falls to the ice after colliding with Tom Kuhnhackl #14 of the New York Islanders during the third period in Game One of the Eastern Conference Qualification Round prior to the 2020 NHL Stanley Cup Playoffs at Scotiabank Arena on August 1, 2020 in Toronto, Ontario, Canada. (Photo by Andre Ringuette/Freestyle Photo/Getty Images) /
After strong performances in Games One and Two, Tom Kuhnhackl has proved to the New York Islanders that he belongs as a mainstay on the third line.
The New York Islanders had one major question going into the Stanley Cup Qualifiers: Who will start on the third line with Derick Brassard and Jean Gabriel Pageau?
With Leo Komarov injured and Ross Johnston getting the lineup spot in the exhibition game against the Rangers, many assumed that Johnston would start the series on the third line.
But Barry Trotz surprised many Islander fans when he named
to the game one roster.
Wise Move
Trotz decided to go with a player in Kuhnhackl, who has an immense amount of Stanley Cup Playoff experience. Kuhnhackl has two Stanley Cup rings to his name and has played in 56 playoff games where he has three goals, seven assists, ten points, and a +4 plus-minus.
This move has paid off for the Islanders as Kuhnhackl has proved in both games, this series, that he is the right man for the job and that he fits perfectly in the Islanders lineup.
Kuhnhackl may have only gotten 8:44 of ice time in game two and 11:33 in game one, but he has done many things right in the two games.
Kuhnhackl has one assist this series and it is a contender for the play of the series. It can be seen below:
This whole play is a thing of beauty. The hard work and puck retrieval of Kuhnhackl along with Pageau and Andy Greene led to a loose puck in front of the Panthers' net. From there Kuhnhackl makes a great through the legs pass to feed Matt Martin, who slots the puck home.
Besides the great assist, Kuhnhackl is one of only six Islander forwards who have been on the penalty kill this postseason. The Islanders penalty kill has been successful three of four attempts.
He also has a +1 plus-minus, three hits, one blocked shot and only one giveaway. He is tenacious on the forecheck and meshes well with Pageau and Brassard.
Kuhnhackl does many of the little things right and these little things may go unnoticed, but they contribute to the success of the Islanders. He has proved he belongs on the third line and should be a mainstay in the Islanders lineup.
*All stats provided by the NHL*